For over 35 years, The Haven has helped thousands of people transform their lives and relationships. This year, we were seriously impacted by COVID-19. We shut our campus down in March and our future was in question.
The Board and management responded by using this as an opportunity to re-imagine The Haven and what it can become in the next 35 years. We've developed a strong financial and operational plan, adopted a new, more open and inclusive management style, and are taking action toward becoming more consciously diverse.
The Haven Alive to Thrive fundraising campaign was wonderfully successful! Thank you to everyone who supported The Haven to recover, rebuild, and re-imagine an expanded future. We are excited about our next projects and invite you to partner with us to move forward on key goals.
As you can see in the Transformation Journey graphic below, Diversity and Inclusion is an important value identified back in June 2020. We've begun our learning process with internal workshops for staff and faculty. Our plan now is to fund a Diversity Audit and begin acting on the recommendations of the Auditor.
Oct-Dec 2020 on the Transformation Journey graphic Evidence-Based Research is referenced. We have begun the project and are looking for funds to run it throughout 2021. We will share the annual report on the research when we have it.
Jan-June 2021 we will create our new learning platform. This makes up three of the projects in the End of Year Campaign – All-In-One Website, Tools for Aliveness Online Program Development, Haven Content Library.
Garden Tractor? Well, we need to be looking good for our expansion and growth throughout 2021 and beyond!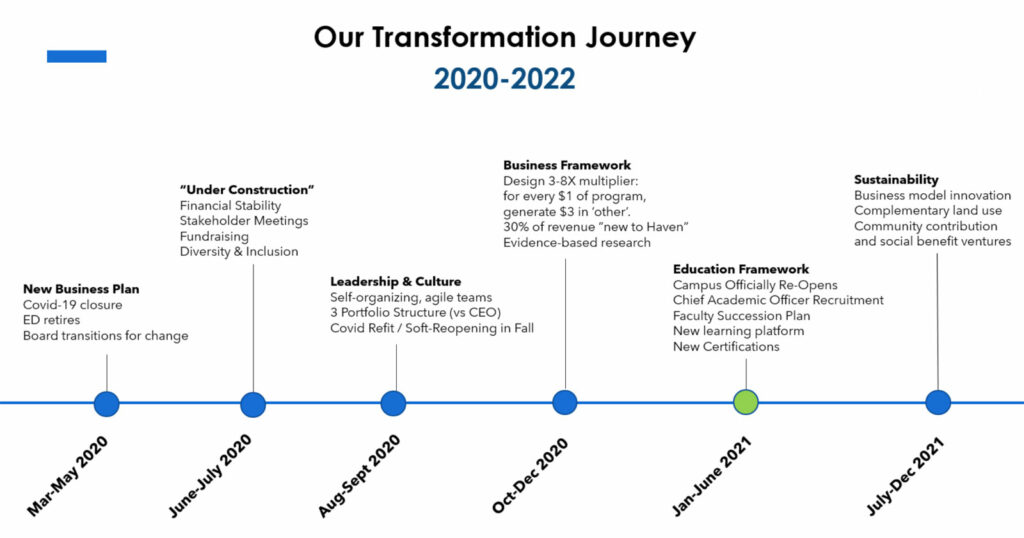 Our financial projections continue to evolve in response to the COVID context.
With your financial support, we will not only survive, but thrive for the next 35 years.
It will take all of us to make it happen.