Welcome to The Haven…
We're excited to welcome you back on property for in-person programs, while still offering online programs to meet the needs of your busy life. Established in 1983, the Haven is a not-for-profit Centre for Transformational Learning on beautiful Gabriola Island in British Columbia, Canada, located on the unceded ancestral territory of the Snuneymuxw First Nation of the Coast Salish People.
What sets us apart from other centres and retreats is an innovative curriculum created by our co-founders, Dr. Bennet Wong and Dr. Jock McKeen. For almost 40 years, thousands of participants have chosen Come Alive, Living Alive, and Couples Alive for personal and professional development. Whether we're meeting face-to-face or online, we offer deep healing, transformation, connection, and growth in community. 
We hope you'll check back regularly to see what exciting programs are in store for you!
"A wonderful reminder that well-being is possible – even in these disorienting times – a thoroughly grounding and enlivening experience."
Sarah, Breathe! Online
Come Alive, Couples Alive and Living Alive are our most popular programs and are unique to The Haven. Since 1983, thousands of people have found deep healing, personal growth, and transformation through these experiences. You won't find experiential learning like this anywhere else…
Carole Ames, a long-time Haven Core Faculty Member, has co-authored a book which launches May 18th. The book is titled THE MIRACLE MINDSET, and Carole's chapter (The Quantum…
Written by Cathy McNally (BSc, DipC), a Core Faculty member who has been associated with the Haven since 1989! In 2010 my husband Ernie and I, each with…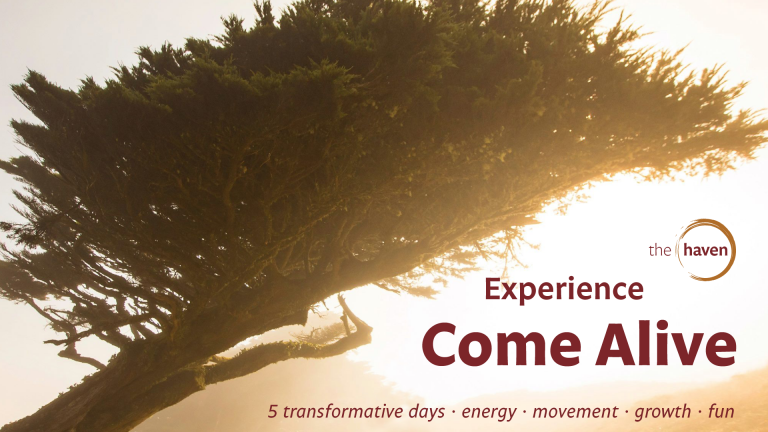 Written by Louise Amuir, a long-time Havenite – current assistant and former staff member extraordinaire. I think I may have attended over 50 Come Alives. I was chatting…