The Haven's Phoenix Auditorium is a popular venue for concerts, conferences, performances, and more. Many of these events are open to the community — we hope you'll join us! For many years, The Phoenix Auditorium has been a favourite for it's stunning acoustics, impressive AV capability, and flexible floor plan options, welcoming up to 165 seated guests. Please find a listing of upcoming events below, along with details for where to purchase tickets, if applicable.
We've also listed some of our past events to showcase the breadth of what's possible in this space! For information on booking the auditorium or other venue at The Haven, please see the Conferences and Events page.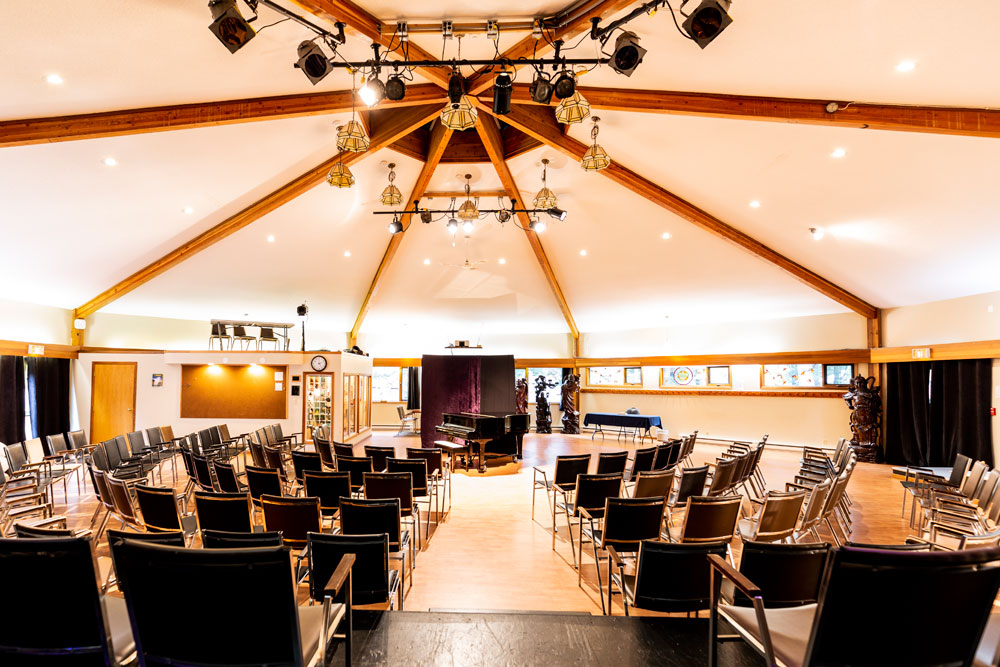 Upcoming Events:
Due to the latest update for Event Covid protocols, the Phoenix Auditorium is not available for bookings at this time. This will be reviewed when the latest information is available from the BC Health Authority. Please stay safe everyone.
Past Events:
Gabriola String Ensemble Retreat presents a Faculty Concert by members of Trio Accord and Borealis String Quartet, with bassist, David Brown and Pianist, Arnold Draper.
Stories from Home: Exploring Key Themes to Address Gabriola's Housing Needs While Protecting the Environment
Bright Grief with Heather Macleod
Lulu presents The Echea String Quartet from the United Kingdom
Crystal Journey with David Hickey
International Stick Night with the Chapman stick electric instrument
Shield Maiden
Gabriola Arts Council: Isle of the Arts Festival workshops and speakers
The Good Lovelies
Gabriola Land & Trails Trust (GaLTT) AGM
From Truth to Reconciliation Speaker Series
Eric Bibb in Concert
Borealis String Quartet
TEDxGabriolaIsland: Beyond Objectification into Empathy
Diamond Chants: The Heart Album Release Concert with Leah Hokanson
Develop Your Creative Vision Photography Show
Lulu Performing Arts presents Baroque Europe: A Musical Journey with Contrasto Armonico
Carter Johnson, Gregory Lewis and Helena Jung in Concert
Carter Johnson, Gregory Lewis and Helena Jung in Concert
Trio Sayso Concert
and many more! For ideas of other types of events — both big and small — that can be accommodated on The Haven's property, please contact our Groups & Events Coordinator, Wendy.