Raven Steals the Smokey Sun
As a contribution to The Haven's hot tub fund, Shelley Lewis donated her beautiful photograph Raven Steals The Smokey Sun. The names of all the hot tub donors were put in a hat, and one was drawn to receive the photo – and the winner was Jennifer Hilton! Here Shelley describes the amazing story of how she took the photo – it's not photoshopped!
Shelley Lewis writes:
I am the proud owner of the Salish Sea Beach House in Sidney, B.C., on Vancouver Island, and in the summer of 2017 I hosted a wedding here on my property for friends that got engaged here a year earlier, Colin and Kristen McBryan. When they arrived, they gifted me two magnificent metal hand crafted ravens made by Grace Antonides of Ideal Garden Products, which they found on Etsy, because they know I am a Corvidophile (one who loves corvids, or crows).
I actually have my own murder of crows that live on my property (they're sort of like my kids). My property is oceanfront and the sun rises directly out front every day. I have been obsessed with shooting sunrise shots for seven years now. Some of them just take my breath away, they are so gorgeous!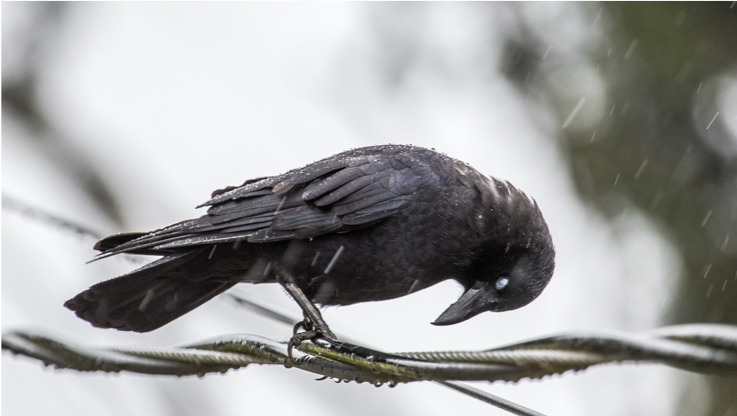 I had an idea for an art shoot as soon as I saw the metal ravens. One of them looked just like a photo I entered into the Sidney Fine Art Show last year that I had titled The Prayer, which I must admit was my favourite image up until this Raven Steals the Smokey Sun photo!
The other corvid looked like the raven in the folklore tale The Raven Steals the Sun or The Raven Steals the Light (https://goo.gl/vD9GKx).
So, with that in mind I waited for the right morning to go over to the beach and place said raven on a piece of driftwood and shoot it as the sun rises and try and capture the sun in its mouth. Summer is my busy time with the B&B so that didn't happen as soon as I had hoped.
Our planet is in trouble and we have been dealing with forest fires all summer here. British Columbia, Washington, Oregon and California are burning up before our eyes … it's heartbreaking. But that being said, it makes for amazing photos. The internet is burning up (no pun intended) with these haunting images with red suns and moons and hazy skies.
On September 5 at 2:30 am, I woke up coughing and I couldn't breathe! The smoke had taken its toll. Being awake all night, I figured this was a good a time as any to get that sunrise raven shot … so I put my metal raven in my basket, grabbed my camera and a couple of different lenses and headed down to the beach at 6:37 am to await the massive orange sun that was about to rise from behind Mount Baker! They sky was thick with smoke like pea soup and was the colour of nicotine, very much like the walls of my parents' home, who had smoked like chimneys their whole lives. My breathing was labored, but as long as I moved slowly it didn't bother me too much (or at least I thought).
I perched the raven on just the right piece of driftwood that my fence is made of and waited, and waited, and waited some more. I didn't have my phone with me so I had no idea how long I was there. It felt like that sunrise took forever. I didn't know it was three hours until I got back up to the house, but the sun did appear, much to my surprise, almost over my head! I was stunned … I was expecting it to rise up from where Mount Baker would have been if you could see it for the smoke. But clearly that much time had passed, so I grabbed the raven and moved it to a different piece of the fence, the smoke engulfed the sun and it came in and out of view for all of 10 seconds. In those 10 seconds, I positioned myself so close to the ground as to get the sun in the mouth of the raven, moving my camera and zoom at the same time to make it work. I only took four photos and the sun was gone for the rest of the day. That was the ONLY 10 seconds the sun appeared that day.
Heading back to the house I was gasping for air. I could barely make it up my driveway … it was terrifying! When I looked at my phone I had been down there for three hours! I couldn't believe it! I took the card out of my camera, put it in my computer, and just about lost it when I realized what I had captured. Only one of the four images got that sun into the mouth of the raven.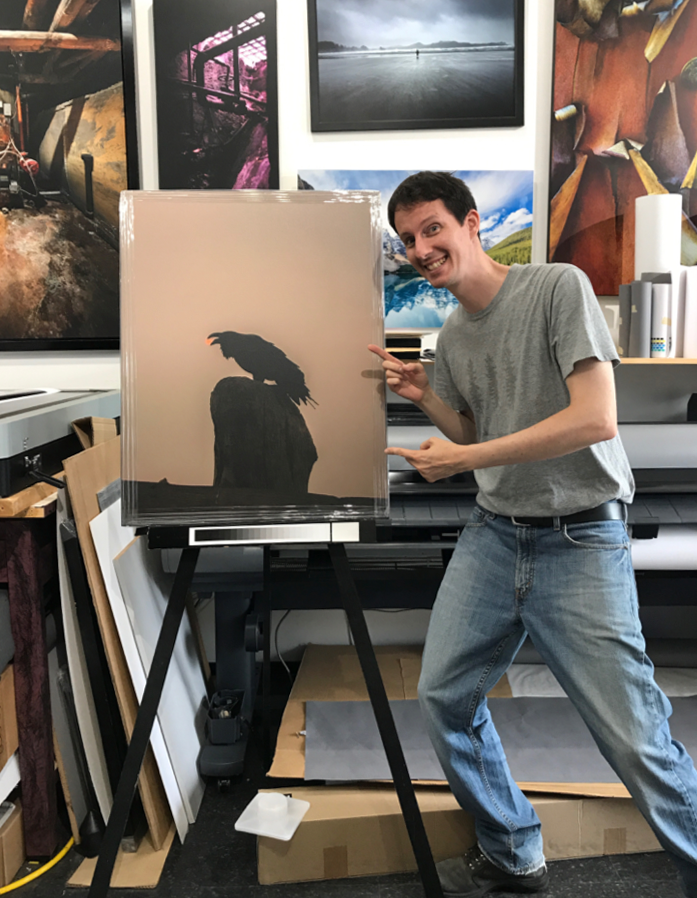 I immediately phoned Terry Zolt at The Print Lab, to see if he could get this printed in time for me to enter it in the Sidney Fine Art Show for adjudication for the upcoming Sunday. I had already paid to enter two pieces in the show, and Terry had those framed and all ready to go, but when I saw what I had here I knew it needed to be entered. For some reason my entry forms for the show had sat blank on my table for two weeks. I never did fill them out, and now I know why. The universe was waiting for this image to appear. The only medium we could get done in time was canvas so, being the hero he is, he got it done and I picked it up Friday. Thank you, Terry Zolt, you are the Dr of Print!
That was my Tuesday morning. I picked up one of my sisters in-law up at the airport and then headed home. I posted the Raven Steals the Smokey Sun on my personal Facebook page at 10 am that morning. I also posted it to Dave Brosha's workshop page, CTV, CBC, Chek News, and the Weather Network. By 5:30 pm it had 357 shares, which I thought at the time was epic! But by 11 pm that evening the Ravenmaster at the Tower of London had shared my photo and posted it on his page! This blew my mind, and friend requests and messages from complete strangers started to flood my Facebook page. At first this made me very nervous, and I deleted many of them, but then, being a person that believes that there are no coincidences or accidents in life, I thought if the universe is making this happen just embrace it and see where it goes!
The smoke kept me in the house as I couldn't breathe, so I closed all my windows and hunkered in. Only to answer requests to purchase this image, and deal with new friend requests from all over the world! Otherwise I would have never been attached to my computer screen like that! The timing was perfect. The only thing that wasn't so perfect was that I was supposed to go to Parksville and attend the Vancouver Island Music Workshop, which I had booked months ago. I was going to sing and play my ukulele til the cows came home, but alas that was not to be. I had to cancel and that broke my heart. I ended up in the hospital Thursday night, as I really couldn't breathe, it was terrifying. But again, because there are no coincidences, I was able to pick up my print from Terry and get everything I needed to get done to enter it in the Sidney Fine Art Show. On my way back from The Print Lab to home a murder of crows flew over my vehicle as I entered onto the Pat Bay Highway. They knew what I had in my car, I know it, and you can't convince me otherwise. Well, that week was the ride of my life. I met and chatted with the most amazing people though all this, and the love and support for my photo left me in tears a few times and also left me with nothing but love and gratitude for you all!
In 2018, I decided to donate Raven Steals the Smokey Sun to The Haven to support the fund for a new hot tub. I am a believer in paying it forward in life. I got so much out of my time spent at The Haven doing Come Alive, I felt I wanted to give back to the place and people that gave me so much. I truly believe if more people just paid it forward in whatever they do in life … we would all be so much better off for that!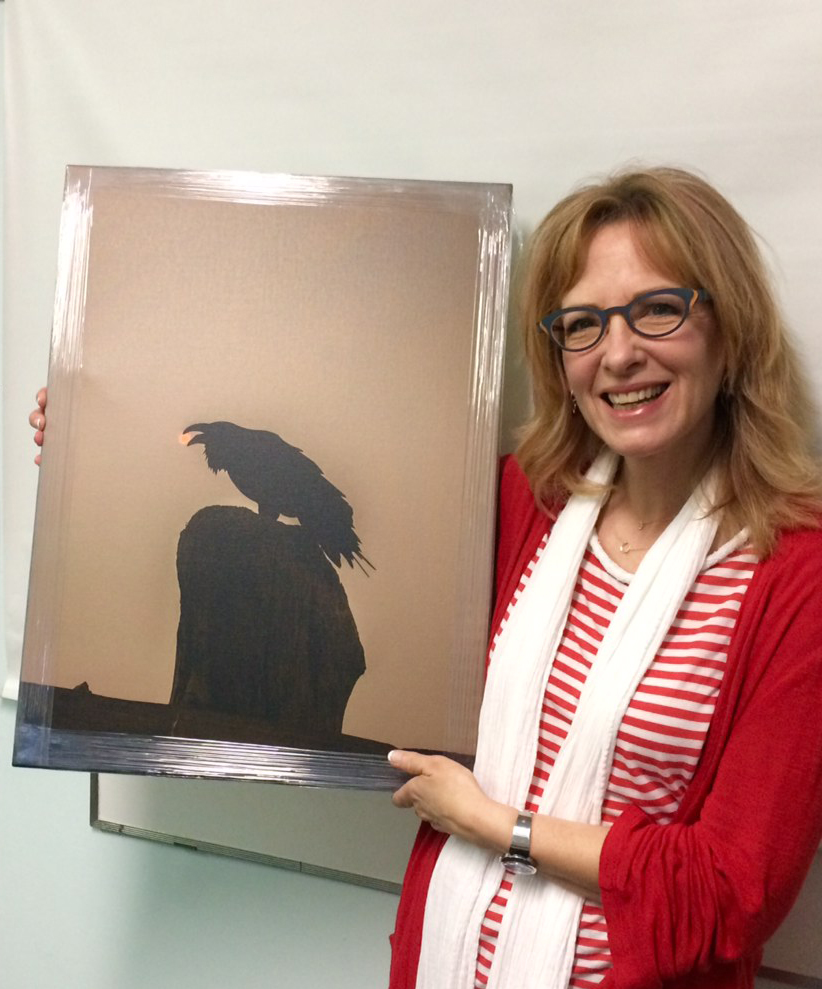 Jennifer Hilton
with Raven Steals the Smokey Sun
August 2018.