Luminaries on Demand
With Maria Gomori, Jock McKeen, Dr Muna Osman, Jennifer Fraser, Greg Gurel, Sheila Marentette, Carolyn Tees, Bettina Rothe, Kathrin Stauffer and Cayley Benjamin
Open Dates
Lunch with Luminaries is a webinar series to share different perspectives on a variety of topics of interest to our community. These talks pay homage to early Haven days where co-founders Ben and Jock invited various thought leaders into conversation – sometimes they agreed with the ideas shared and sometimes they didn't. We think this spirit of curiosity and generosity is an important core value we hold, and we're excited to recreate this concept today with time and space-transcending technology!
Each webinar has a Haven Host who introduces or interviews the guest speaker, and in some cases takes Q&A from the audience. The focus of these 1-hour live events is expansion, learning, and curiosity.
Click here to see our upcoming Lunch with Luminary webinars and other Online Programs!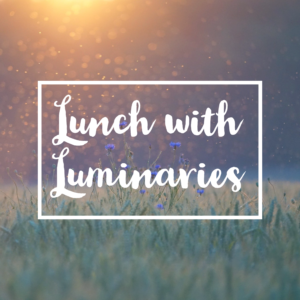 Recordings archive: 
This is an archive of recordings of the live seminars that have been hosted at The Haven Online starting in 2021.
Once you register, you will receive an access link that is unique to you! Simply follow the directions in the email to link your email address and access the Lunch with Luminaries Archive!
Please share this registration page with anyone you think might be interested in this series!
Leaders