Haven Holiday Kitchen: Tips & Tricks for 2 of Our Most Famous Recipes!
On Tuesday, we hosted an online Haven Holiday Kitchen fundraiser and community baking and cooking session. We really appreciated connecting with Haven alumni across the country and collectively came up with some tips and tricks for making Haven granola and yeast dressing to share with all of you. We hope you enjoy these recipes in connection with yourself or those around you, in person or online.
Community Tips & Tricks:
We tested a variety of baking surfaces: a greased pan, a silicon baking sheet, and parchment paper. We found that the parchment paper cooked most evenly and made for easy cleaning!
Our bakers were excited to gift their granola and came up with some creative ways to package it: compostable paper bags, mason jars, and even folded beeswax wraps (2 gifts in one!)
Emulsifying dressing can be tricky. If your oil is not mixing into the dressing well, you might try splitting up the batch to allow for more room in your blender or cooling your ingredients if you're in a warm kitchen.
If you're finding it challenging to mix in the honey evenly, you can make it more viscous by heating it up.
All ovens are different! Each of our granolas turned out differently. We recommend lowering the temperature, if you know your oven runs hot, and monitoring for golden edges (by smell or sight!).
Haven Granola:
Makes approx. 12 cups.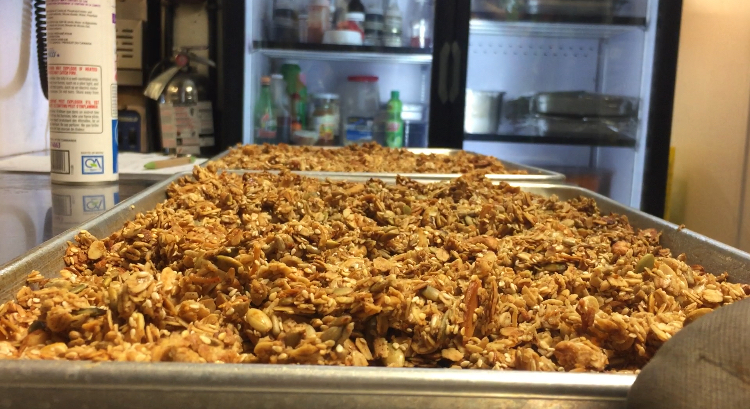 Cooking time: approx. 90 minutes
Prep time: 15 minutes
Ingredients:
6 cups whole rolled oats
1 cup cashews
1 cup sliced almonds
1 cup coconut
1 cup sesame seeds
1 cup sunflower seeds
1 cup pumpkin seeds
1 Tablespoon cinnamon
1 cup oil
1 cup honey
½ cup water
1 teaspoon vanilla
1 teaspoon maple extract
1 heavy sprinkle Haven magic, to taste
Method:
1. In a large bowl, mix dry ingredients (oats, cashews, almonds, coconut, sesame seeds, sunflower seeds, pumpkin seeds, and cinnamon)
2. Next, add the wet ingredients (oil, honey, water, vanilla, and maple extract). Louise's Tip #1: Fill a measuring cup with oil, then add the honey. This will prevent the honey from sticking to the sides of the measuring cup. Louise's Tip #2: Add the vanilla and maple extract to the water before pouring into the larger bowl of ingredients.
3. Thoroughly mix the wet with the dry – we've found hands work best!
4. Once mixed, spread the granola mixture out on two or three baking pans and bake at 300⁰F for 45 minutes.
5. Flip the granola over and bake another 45 minutes or until golden. Louise's Tip #3: you'll get an irresistible whiff when your granola's ready to come out of the oven. Keep an eye and your nose out!
6. Let cool completely and store in an airtight container.
In typical times, Haven Holiday Granola is a fundraiser for financial aid. We hope you'll consider supporting Haven Foundation in our Year End campaign by donating here.
Nutritional Yeast Dressing
In a blender, combine:
2 cloves of garlic

½ cup of soy sauce or gluten-free Tamari

¼ cup apple cider vinegar

1 cup flake yeast
With the blender on low, slowly add:
3 cups oil (canola, sunflower, olive, or safflower work well)
¼ cup cold water
This is a historical Haven recipe that has been enjoyed for over 35 years! Learn more about the origins here.
Let us know what you think of each of these recipes in the comments below! We'd love to hear from you.