Donor Spotlight: Carol's Art for A Good Cause
Interview by Louise Amuir, Fundraising & Financial Aid Manager at The Haven
The Haven community is comprised of wonderful people, many of whom give of themselves in multiple ways. We have monthly donors, capital project funders, people who include us in their estate planning, participants who spontaneously tick that "Help Others Attend" box when they're registering, reliable granola patrons, as well as both donors and bidders for our annual online auction. We're appreciative of all the many ways people support The Haven and want to call out and share a new way one of our creative donors is giving back.  
Art For Humans at The Haven
Carol Lopez is a Haven alumni who is donating her original artwork to raise awareness and money for us through Art for Humans. Art for Humans (A4H) is an online platform designed to help charities raise funds in an innovative way and connect artists with buyers who are both interested in supporting a good cause. Artists choose a charity of their choice to receive the proceeds, which in this case is (with gratitude), Haven Foundation. When Carol discovered Art for Humans she was inspired by the idea of selling her paintings to support people to attend programs at The Haven:
"My passion is to become an outstanding painter and colorist, and to connect with my audience to the degree that they are transformed when they encounter my work; I consider it a great privilege to "work" full time at being an artist, and I love giving it back through creating art that makes a difference in people's lives."   
Collecting Art = Donating to Haven Foundation
Carol has selected two original oil on canvas paintings to sell through Art for Humans with 100% of their proceeds going to The Haven's financial aid program. Her desire is to support young people through Kids In The Spotlight or Teens Alive, two of our popular programs for children and youth.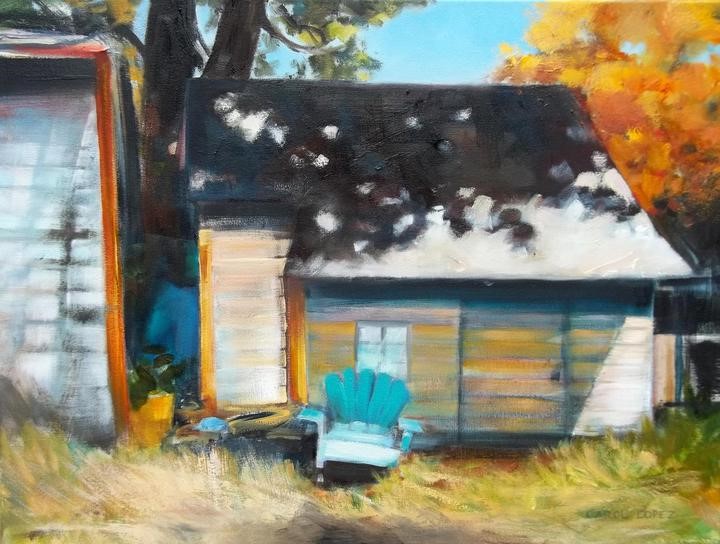 Crescent Beach Shed is an original 18" x 24" oil on canvas depicting a popular family destination in Surrey, BC. When you purchase Carol's painting, Haven Foundation will receive $1,100 to support kids to attend programs like Kids in The Spotlight.
Click here to purchase with all proceeds to The Haven.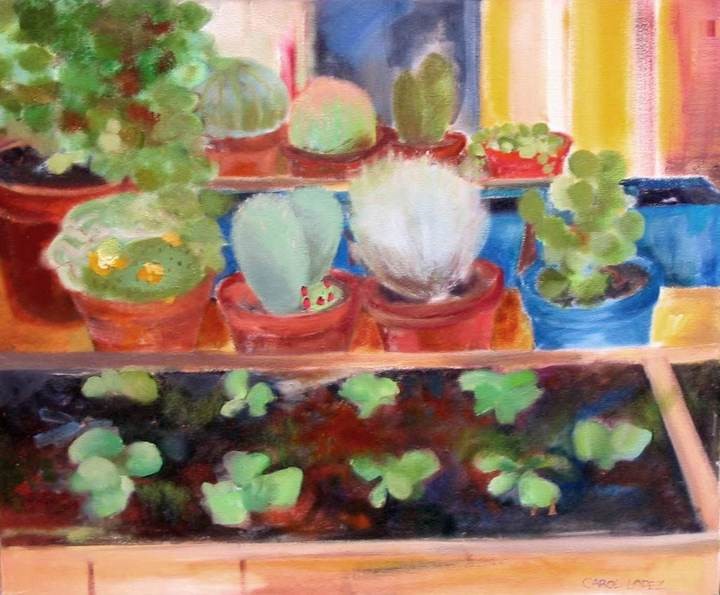 Cactus and Lettuce is an original 22" x 26" oil on canvas, perfect for nature and garden lovers alike! When you hang this on your wall, you'll be reminded of the generosity of our community and Haven Foundation will receive $1,550 for Financial Aid.
Click here to purchase with all proceeds to The Haven. 
Carol's Inspiration
As Carol has been setting up this initiative, we've been talking. I thought you might be interested in Carol's background, her relationship with The Haven, and what inspired her creative philanthropic approach. Here's our conversation:
Louise: You mentioned you're specifically interested in supporting children and teens at The Haven. Is this because of your involvement with Kids in the Spotlight? How long have you been coming to The Haven as a KITS caregiver?
Carol: I've been caregiving Enrique at KITS for about 8 years. I'm so grateful to have heard about it from Karen Epp, as I think it's been a good program for Enrique. Denise Goldbeck appreciates his gifts and his challenges, I think, and has really helped him learn more about himself, and develop his leadership. 
And being there for all those programs has benefited me, too. I will always have great memories of my time with Enrique at KITS.
Louise: That's wonderful. Many caregivers and parents look forward to KITS as much as the kids! Have you done any programs at The Haven for adults?
Carol: I've taken Come Alive, and the 5Rhythms dance program. And through being there as a support for Enrique, I've met so many interesting people who have introduced me to programs, philosophies, books, bodywork…all the modalities that enhance my life. 
Louise: Why do you want your art to benefit The Haven?
Carol: I want to see my artwork being enjoyed by people who understand why I make it. If it can also raise some funds for The Haven, that's a double bonus. This is why I am part of the Art For Humans collaborative which brings artists, art buyers and charities together to promote art and to grow the culture of charity.
Everything in my life is enhanced by people (children, teens, and adults) raising their consciousness by attending programs at The Haven.
Louise: What a gift. Thank you, Carol. How long have you been an artist?
Carol: I've been doing art all my life. I got serious about it when I lived in Montreal in my 20's; earned a Bachelor of Fine Arts in 1973, and have been learning and growing in art ever since.  Now I live in Mexico, in a small house in a small village, and I just see everything as art. Gardening, cooking, house design, learning Spanish, it's all art, though painting and collage do have a special place. It's very freeing not to be judgmental, not to compare, but just to do the best I can to put my authentic work out there, and see if anyone relates to it. (Some do, and that's really rewarding).
That concludes our interview! To learn more about Carol and her artwork, please visit her website: www.carollopez.com.
Carol will also consider extending the concept of Art for Humans to any of her other works that are marked 'For Sale' in Vancouver. Please contact her directly at carollopezart@gmail.com even if you see one you would like to buy that is not featured.
Thank you to Carol and to all our generous donors who make it possible for many children, youth, and adults to transform, heal, and grow at The Haven each year. If you have ideas of donors we should "spotlight", please email Louise at Louise@haven.ca.