ONLINE: Befriending your Inner Critic
With Louise Amuir and Graemme Brown
February 26 - 27, 2022
This program is for you if you have ever stopped yourself from doing or having what you truly want, by telling yourself you aren't good enough… or smart enough, young enough, thin enough, talented enough, beautiful or handsome enough.
Befriending your Inner Critic is for you if you want to:
Accept and trust yourself

Transform negative self-talk

Build confidence

Practice present moment awareness

Learn intentional language

Let go of triggers

Enjoy all you have to offer!
Format:
In this exciting online program, Louise Amuir and Graemme Brown will offer 8 hours of experiential learning that is insightful and engaging, and includes personal activities, group discussions, and breakouts with fewer people for deeper connections. There will be scheduled breaks throughout. This program also includes complimentary follow-up call(s) to support the integration of your learning and growth. 
Technical requirements:
This online program will be hosted on Zoom, a video conferencing software that is free for participants and easy to use on a variety of devices. You will need to have a device (desktop computer or laptop recommended; tablet or smartphone can work too), reliable internet connection, and sound capabilities (headset recommended; built in or external microphone or speaker systems can work too). You will be invited to join the call up to 15 minutes early to receive technical support.
Recommended Resources:
Here are book titles that can complement and enhance your learning in this program, which can be ordered online. Click the book images to learn more: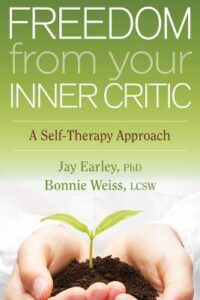 Leaders

Louise Amuir
Louise Amuir, Diploma of Haven Counselling and Diploma of Haven Group Leadership, is interested in creativity and expressive arts as a means to connect with self and others. Louise is committed to diversity, inclusion, equity, reconciliation, and building collaborative processes. Louise's varied life experiences in theatre, writing, art, dance, music, working with street youth, youth in receiving and treatment homes, parenting, relationships, and meditation bring humour, mindfulness, curiosity, and play to her work with people. As Haven faculty, Louise leads/co-leads: Befriending your Inner Critic; Inner Wisdom for Women; Awareness through Creative Expression; and Haven New Year visioning programs and assists…
Learn more about Louise Amuir

Graemme Brown
Graemme Brown (Dip.C / SEP) runs a private counseling practice on Gabriola Island. Associated with The Haven since attending his first experiential workshop there in 1985, he is dedicated to compassionate and gentle inquiry. Drawing on his expertise with the family-systems approach of Virginia Satir, Jungian shadow work and the trauma healing of Peter Levine's Somatic Experiencing system, Graemme's approach is to assist people to re-connect with their innate resilience and aliveness, fostering healthier relationships within the self, with others and with the planet. As a member of The Haven's core faculty, Graemme co-leads Come Alive, Living Alive Phase I,…
Learn more about Graemme Brown