Lunch with Luminaries: The Power of Story: Be The Author of a Life You Love
With Leslie Brown
October 19, 2021
 Join us for a free webinar with Leslie Brown, Excellence Seminars International program leader.
By the time we are 6-7 years old, our self-concept and perception about how the world works are pretty much set.  Early childhood programming largely operates at a subconscious level and if we haven't done the work to shift our paradigms, that same software will continue to drive our thoughts, the stories we make up, our feelings and our results.  To the extent that you are not living the life you love, there is a good chance that early programming is outdated, untrue and disempowering.  It might be time to uncover and discard what isn't working and RESET your filters so you are in charge of creating the life you want!
Schedule & Format:
Tuesday, October 19 2021, 12-1pm PT
Zoom will be open 15 minutes before and after the session for technical support and informal connection with others.
This free 1-hour webinar will feature:
Presentation and discussion

Opportunities to learn about the topic

Limited-time access to the recording



Informal connection time post-program
Registration: 
Donations to Haven Foundation during registration are greatly appreciated, but not required to join. Registrants will have limited-time access to a recording.
The Haven is a registered charity and not-for-profit organization.
Your support allows us to offer great events like this one and continue to sustain and expand the important work we do. Donations made during event registration are tax receipt eligible in Canada. If you are in the US and would like a tax receipt or wish to donate by e-transfer, cheque, other other method, you can learn more about that
here
. Please reference this event when you make a donation using those alternative methods so that we can attribute your generosity appropriately.
Help us Share:
Do you know anyone who might be interested in attending this free webinar? Help us invite others by sharing on social media or by email. Thanks for your help! 
About Zoom:
This online event will be hosted in Zoom, a video conferencing software that is free for participants and easy to use on a variety of devices. You will need to have a device (desktop computer or laptop recommended; tablet or smartphone can work too), reliable internet connection, and sound capabilities (speaker). You can test your device connection and compatibility in advance here: zoom.us/test
About the

Lunch

 with Luminaries Series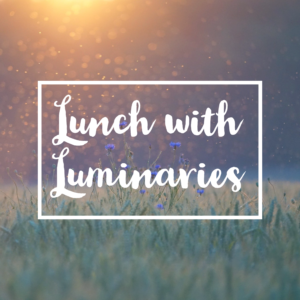 We're launching a new webinar series – Lunch with Luminaries – to share different perspectives on a variety of topics of interest to our community. These talks pay homage to early Haven days where co-founders Ben and Jock invited various thought leaders into conversation – sometimes they agreed with the ideas shared and sometimes they didn't. We think this spirit of curiosity and generosity is an important core value we hold, and we're excited to recreate this concept today with time and space-transcending technology!
Each webinar will have a Haven Host who will introduce or interview the guest speaker and in some cases take Q&A from the audience. The focus of these 1-hour live events is expansion, learning, and curiosity. They are free for anyone to attend and will be hosted in Zoom, an easy-to-use event platform. Please consider donating to Haven Foundation during registration. Registrants will receive limited-time access to the recording following the event.
Leader

Leslie Brown
Leslie is a well-rounded and engaging woman with a passion for well being — mind, body and soul. While working as a successful Registered Massage Therapist for almost ten years, she dedicated herself to helping others achieve physical wellness.  As both an embodiment coach and a program leader with Excellence Seminars International, Leslie finds immense joy assisting others to be living their best, most fulfilling lives.  She leads both ReSet and The Practice, the replacement courses for the Pursuit of Excellence & Advancement of Excellence.  Leslie is committed to life long learning and has studied various aspects of well being…
Learn more about Leslie Brown