World Heart Connection Visualization with Gillian Enright
By Gillian Enright
This visualization was created out of a deep desire within me to stay connected with everyone through loving and inner strength at this time when physical and social distancing is being required of all of us. I wish to deeply stay connected and my heart has felt such loving for everyone being so kind and caring as well as for all those suffering at this time. Yet, I have also felt an immense experience of helplessness, worry and fear for all of us. One way I find my way through this sense of helplessness towards calmness, peace and connection again is through mediations, walking in nature, praying, breathing and visualization. Most of my focus has been placed on creating a loving world image in my mind where we are all uniting our hearts to each other as one loving heart. A world heart filled with connection, calmness, peacefulness and loving for all.
The intention of this visualization " World Heart Connection " is to offer a quiet calming space to join together and remind ourselves we are not alone. This is a time when we can use our faith to unite our hearts as one and build our connection of togetherness and loving.
Visualizations are helpful to experience an embodied image of our wishes, dreams, imagination and creativity – a chance to create through our imagination, a way to see, feel and experience a new reality.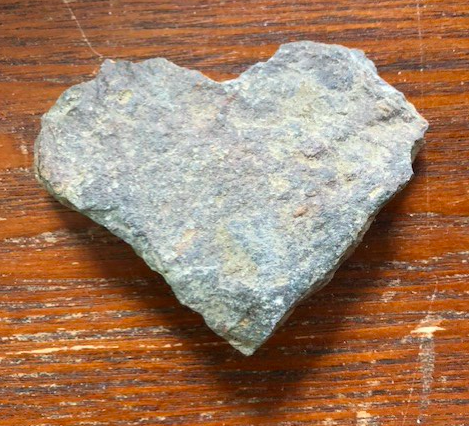 I imagined this visualization when I was taking a walk with my puppies and my loved one down our country road. We were talking about how we cared about so many people and how the isolation was hard. I looked down and there on my path was this heart rock (pictured on the left) I knew in that moment that grace was in action and that this heart rock was offered to us all for the intention of the visualization. I carried the rock home feeling deeply connected to everyone. This rock was rugged and jagged which felt like my heart: strong, rugged and kind.
I hope you enjoy.
LISTEN: World Heart Connection Visualization with Gillian Enright
About the Author/Narrator:

Gillian Enright RMT, MTC, BA, DipC, Cert Gerontology is an accomplished teacher in holistic health body dynamics. She has most recently been practicing and teaching as a Somatic body worker and counsellor as well as a registered massage therapist. She has over 20 years years of post-traumatic counseling experience with youth, families and communities. Her educational path and life experience has led to her passion in evoking the conscious awakening of the body's full expression of a divine life. She has been associated with The Haven for 20 years and leads Come Alive and Living Alive 2: Meaningful Connections. Gillian leads her programs with a loving spirit, honesty and humour.