ONSITE: Act Natural: Rediscover the Play in Life
With Jane Geesman and Sarah Lucht
November 14 - 17, 2023
Rediscover the Play in Life
Awaken your creativity and sense of aliveness and purpose in this unique workshop that blends actor-training techniques with Haven concepts of connection and relationship.
Acting on stage requires the ability to call on different aspects of one's personality and emotional life to tell the story with truth and clarity. This is something we all do in life: We play roles, put on different hats, and behave in specific ways in order to achieve our goals. Through scene work, improv, and body-centered techniques, you will connect with your inner resources in a directed and purposeful way. You will learn to better identify and implement your creative and problem-solving resources in an environment of connection, collaboration, and community – with an emphasis on spontaneity and fun.
People who lead, teach, facilitate groups, or engage in public speaking find this program especially helpful in enhancing their skills and minimizing stage fright. Individuals enjoy personal growth and transformation in a fun and unique way. Couples find renewed connection and co-creativity as they expand and grow together in an environment that encourages openness, curiosity, and freer self-expression.
Please know that absolutely no prior acting experience is necessary! This program is all about process, imagination, and tapping into your sense of play. There is no final performance, but rather an exploration of expression, communication, role-playing, and trusting your creative instincts.
In Act Natural, you will:
Enhance focus, presence, and confidence
Connect to yourself and others with clarity and compassion
Identify obstacles that block creativity and self-expression
Tap into your inner resources in aid of communication, connection, and effective engagement
Experience the fun of creative collaboration and storytelling
Read more about how this program was created here.
Jane and Sarah are masterful in their presentation and facilitation of this fabulous workshop! Amazing how much information and how many experiences they were able to fit into the few days. Their expertise, energy, love of the material, wonderful humour, ability to connect, the fun they have presenting, the integration/base of Haven philisophy, the relationship they have, all add up to a GREAT workshop.  It goes back on my 'to do' list!                                                                                                                                                                                         Participant – J Cimbalo
Investment:
Our Earlybird tuition price of $775 is available to those registered up to one month prior to the program start.  Regular tuition is $835.  Full payment is due one month before the program start date regardless of tuition price.
We are offering private and shared room options.
You can find our cancellation policy here
Schedule:
Your program begins with dinner at 6pm and your first session at 7:30pm
Daily schedule:
Breakfast 8:00 – 9:00am
Morning session 9:15am to noon
Lunch noon to 1:00pm
Afternoon session 3:00 – 6:00pm
Dinner 6:00 – 7:00pm
Evening session 7:30 – 9:00pm
Your program finishes with lunch on the last day.
Transportation:
If you are travelling to Gabriola as a foot passenger on the Gabriola Ferry a shuttle to The Haven can be requested.  Information on this option will be included in your pre-arrival email.
Admission requirements: The student must have the desire and ability to learn.  Must demonstrate a capacity for responsible self care, responsible self organization and sound mental health.  The student must understand and speak English.
This program does not require approval by the registrar of the Private Training Institutions Branch (PTIB) of the Ministry of Advanced Education, Skills and Training.  As such, the registrar did not review this program. What does this mean? Click here to learn more.
Leaders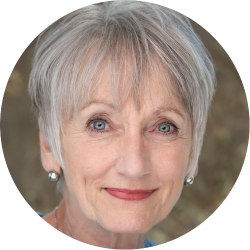 Jane Geesman
Jane Geesman MFA has over 40 years' experience as an actor (onstage and on film), director and teacher, and has trained and/or led programs at The Haven since 1993. In 2001 she and Sarah Lucht developed Act Natural, a workshop that uses a blend of actor-training and personal-development concepts to explore communication,  creativity, and the obstacles within ourselves that stop us from fully expressing who we are and what we want.  Jane has a reputation for creating a safe, fun, and lively environment for people interested in developing their presence, confidence, and creative impulses, both professionally and personally.
Learn more about Jane Geesman

Sarah Lucht
Sarah Lucht is a professional actor, educator and coach. A member of Actors' Equity and the Screen Actors Guild, she has 35 years' experience in theatre, film and television. She has been training and leading programs at The Haven since 1995. With Jane Geesman she leads Act Natural, a program which combines actors' training techniques with Haven concepts and models. Sarah and Jane have created a vehicle for exploring self-expression and creativity in the context of theatre arts. Sarah uses her expertise, warmth and humour to invite people to explore and express their intuition, presence and engagement with others. Website:…
Learn more about Sarah Lucht