ONSITE: Living Alive: Self Awareness
With Jo-Ann Kevala and Louise Amuir LIT
September 23 - October 18, 2023
The Living Alive programs offer the unique experience of time, space, and guidance to help you (re)discover who you truly are. For 25 days, you'll have the opportunity to create and establish new or different patterns for conscious living. People from all walks of life, backgrounds, experiences, lifestyles, and locations join us and often experience something profound.
We are grateful for the land and sea that sustain us.  We are deeply grateful to learn, live and play on 7 acres of forested land by the sea that is the ancestral, traditional, and unceded territory of the Snuneymuxw First Nation, a community of Coast Salish Peoples.  Our peaceful yet vibrant centre on Gabriola Island offers a natural environment that supports the exploration of our innermost selves and our relationships with others.  It's a special place where we can take back our lives and discover our potential.
In a highly experiential and choice-based environment, you'll immerse yourself in The Haven's models and concepts, with opportunities to go deeper, practice, and expand your range of being. Participants are encouraged to question their assumptions, explore their beliefs, and challenge their patterns in a respectful environment. Join a community of seekers and engage in the ultimate experience of self-discovery and transformation.

Self-Awareness – becoming aware of my unique patterns of behaviour and energy

Living Alive: Self Awareness is for you if any of the following applies:
I want to make more informed decisions about things that affect me, my life, and my relationships.
I want to discover, transform, and release energy blockages that negatively impact my health and wellbeing.
I am going through a personal transition and am unsure what happens next.
I want to better know, understand, and shift my own behaviours and patterns.
I want to learn how to draw on and access my inner wisdom, strength, and resources.
I want to practice The Communication Model and create patterns to connect more deeply and authentically with others.
I am curious to learn how others interpret and experience me in different contexts.
I want to discover and embrace the whole me – fantasies, imagination, hidden aspects and shadows too.
I feel stuck in ways that are destructive or no longer serve me.
"I can take responsibility for my own life despite whatever happened in the past. I can give myself permission to be powerful. I have choice."
Read more about the impact of Living Alive, this is Carole Ames's story, A Personal Crossroads.
Living Alive program Highlights:
An in-depth opportunity to engage more consciously and fully in your life and relationships.
Time away to reconnect with yourself and nature on The Haven's beautiful 7-acre oceanfront property.
An opportunity to take your personal growth and Haven-style learning to the next level. 
For those who have attended a Come Alive, we will take a deeper dive into The Haven's models: Communication, Power & Strength, Resonance, Selves.
For those who have not attended a Come Alive there will be plenty of opportunities to learn, practice and integrate these models.
Guided experiences designed to heighten your physical, intellectual, and emotional awareness.
A meaningful and enduring investment in your wellbeing: 25 days of radical self-discovery and transformation.
Experienced program leaders, who are highly trained at The Haven and in their various professions.
Deep investment, continuity, and care from assistants and interns who bring a variety of diverse and complementary skill sets to their Haven training. This support team means a low ratio of participants to leaders. 
A long history with hundreds of Living Alive participants reporting continued personal and professional transformation post-program.
Take-home tools to support integration of learning.
A full program schedule, plus daily breaks for introspection, connecting with others, rest, relaxing in the oceanfront hot tub, exploring nearby trails, and more.
Achievement of pre-requisites required to pursue a Diploma or Certificate at The Haven (if that's of interest!)
Investment: 
Accessibility and inclusion are important to us.  We are offering Earlybird tuition pricing of $5950 up to one month before the program start date.  Full tuition is $6450.  Get all of your meals, shared dorm accommodation, and 25 days of programming starting at $8759.50 +tax.   Other shared and private room options are also available.  Full payment is due one month before the program start date regardless of tuition price.
Haven's Community Fund can help. We are offering limited partial bursaries to help you finance your investment in yourself.   We can also offer pre-payment plans.  Don't let program fees hold you back. Learn more. Our funding is very limited and applications must be received by Friday August 25th so we have time to process them.
Schedule:
Your program begins with dinner at 6pm and your first session at 7:30pm
Daily schedule:
Breakfast 8-9:00am
Morning session most days 9:15am to noon, with a break midway
Lunch noon to 1:00pm
Afternoon session most days 3:00-6:00pm, with a break midway
Dinner 6:00 – 7:30pm
Evening session most days 7:30 – 9:00pm
Afternoon and evening sessions can vary.  Your program finishes with lunch on the last day.
Transportation:
If you are travelling to Gabriola as a foot passenger on the Gabriola Ferry a shuttle to The Haven can be requested.  Information on this option will be included in your pre-arrival email.
Recommended Resources:
Here are book titles that can complement and enhance your learning in this program. You can purchase when you are at Haven, or order online. Click to learn more:
+ Being: A Manual for Life by Bennet Wong & Jock McKeen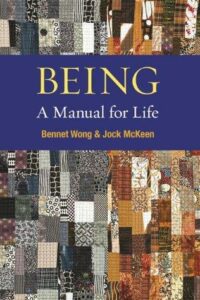 + Joining: The Relationship Garden by Bennet Wong & Jock McKeen
Admission requirements: The student must have the desire and ability to learn.  Must demonstrate a capacity for responsible self care, responsible self organization and sound mental health.  The student must understand and speak English.
Leaders

Jo-Ann Kevala
Jo-Ann Kevala Dip HGF, Dip BA is an experienced executive with over 25 years of progressive leadership experience in the high-tech and emerging technologies businesses. The Haven has been a catalyst in her journey to finding self-compassion, balance and a way to live a more congruent life. This has extended to include integration and application of many Haven concepts and models to her relationships, executive coaching, training and business leadership. As an entrepreneur together with her husband Rob, Jo-Ann owns and operates Hidden Pond a bed and breakfast and retreat center in Metchosin, BC. Jo-Ann leads Self Compassion as well as leads…
Learn more about Jo-Ann Kevala

Louise Amuir LIT
Louise Amuir (she/they), Diploma of Haven Counselling and Diploma of Haven Group Leadership is interested in creativity and expressive arts as a means to connect with self and others. Louise is committed to diversity, inclusion, equity, reconciliation, and building collaborative processes. Louise's varied life experiences in theatre, writing, art, dance, music, working with street youth, youth in receiving and treatment homes, parenting, relationships, and meditation bring humour, mindfulness, curiosity, and play to her work with people. As Haven faculty, Louise leads/co-leads: Befriending your Inner Critic; Inner Wisdom for Women; Awareness through Creative Expression; and Haven New Year visioning programs and assists…
Learn more about Louise Amuir LIT