Recording of "Jock's Journey"
With Jock McKeen
Open Dates
Listen to Jock and his son, Kevin Wong, as they discuss Jock's journey from doctor to co-founder of Haven, to current day.
Jock McKeen, co-founder of the Haven, began his career as a medical doctor. Jock will discuss with Kevin their mutual attraction to the sciences, and Jock's expansion into the Eastern approaches to medicine and health. The journey continues onto Jock's meeting of Kevin's father, psychiatrist Bennet Wong, and how their sharing of ideas eventually led to the birth of Haven. During this time, Kevin earned his PhD in Biochemistry, which led to rich conversations between Jock, Ben and Kevin about the philosophies of East and West, with a continuing thrust to synthesize East-West approaches to health, psychology and life style. We invite you to listen to this conversation, and the evolution of ideas that were brought to Haven.
Format:
This is a recording that will be available to purchase until July 1st, 2022 with access until August 1st, 2022.
Help us Share:
Do you know anyone who might be interested in attending this free webinar? Help us invite others by sharing on social media or by email. Thanks for your help! 
---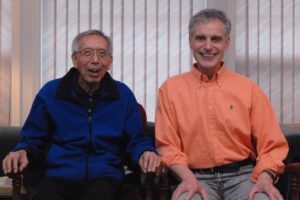 Leader

Jock McKeen
Jock McKeen MD, LicAc(UK), DLitt, co-founder of The Haven and Faculty Emeritus, is an accomplished presenter and author. Starting out as an emergency physician, he studied acupuncture at the College of Chinese Acupuncture, Oxford, England. After establishing a complementary medical practice in association with Bennet Wong, they collaborated in the development of The Haven. Together they created Come Alive, the Living Alive Phase programs, and a number of other central Haven programs. You can read more about Jock at the Wikipedia entry devoted to him and the work he's done.
Learn more about Jock McKeen