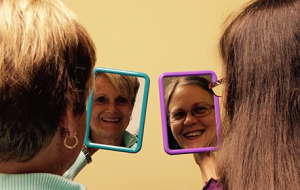 Developing honest, nurturing relationships at home and work
In this revelatory program you will learn about and practice direct mirroring, a style of feedback that nurtures honest, intimate relationships.
Early in life, we adopt messages from others as the "truth" about ourselves. If these remain unexamined, they can shape our lives in unhealthy ways. A deeper understanding of this process is beneficial in relating, parenting, health, making congruent decisions, managing employees, and working with colleagues and team members.
This program is for you if you want to:
Unhook from depending on others for self-definition
Be less defensive and reactive in significant relationships
Explore and reduce habitual self-hatred and self-doubt
Form your own opinions rather than abandon yourself to those of others
Increase your flexibility and creativity
Improve health and wellbeing for yourself and others by ending patterns of giving, receiving, and believing distorted feedback
Express your inner experiences more clearly in relationships
This program is an opportunity to reflect on the ways we limit our full expression and creativity and assess the "fit" of our preconceived beliefs about self-esteem, body and self-image. Through a range of experiences, you will exercise your capacity to update messages that no longer fit, and practice direct mirroring.
You can read more about mirroring in this Shen Blog article by Joann Peterson, who created this program and was for many years The Haven's director of education; and there's another article from former participants here.