Kelly Price is a Certified Yoga Therapist (C-IAYT), Certified Trauma Center Trauma Sensitive Yoga Facilitator (TCTSY-F), Registered Yoga Teacher (E-RYT) and Continuing Education Provider (YA-CEP).
As a trauma-informed yoga therapist and educator her approach integrates advanced training in the therapeutic, technical and spiritual applications of yoga with an in-depth knowledge of trauma theory, attachment theory, internal family systems theory and somatic & transpersonal psychology.
Kelly has over two decades of experience working in child and youth care, street outreach, residential treatment and in private yoga therapy practice. She currently specializes in offering individual yoga therapy sessions, therapeutic classes and workshops for individuals living with the impacts of acute or chronic stress, or trauma, and the associated symptoms of anxiety, depression, addiction and/or PTSD.
Kelly also has advanced training in: Ayurveda, iRest Yoga Nidra, Mindfulness Meditation, Restorative Yoga, Yin Yoga, Yoga for Cancer and Yoga For Parkinsons.
She is a professional member of The International Association of Yoga Therapists, The Center for Trauma & Embodiment and The Yoga Alliance.
Website: Kelly Price Yoga
Events with Kelly Price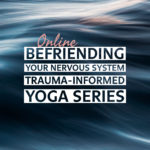 ONLINE: Befriending Your Nervous System: A Trauma Informed Yoga Series
October 21 - December 9, 2021
As we continue to live through a global pandemic, many of us are experiencing unprecedented levels of chronic stress. A prolonged perception of threat, uncertainty and loneliness can disrupt the homeostatic function of our autonomic nervous system, undermining our mental and physical health, and aggravating pre-existing conditions. Yoga is a comprehensive mind-body practice that is particularly effective for improving physical and mental health and alleviating suffering at the deepest levels. Yoga's potential to regulate our nervous system, decrease inflammation, foster immunity, manage mood and increase resilience and wellbeing, is now being recognized internationally. This accessible, therapeutic yoga series is…