Kelly Price is a Certified Yoga Therapist (C-IAYT), Trauma Sensitive Yoga Facilitator (TCTSY-F), and Continuing Education Provider (YA-CEP). She is currently completing a Master's degree in Counseling Psychology.    
 As a trauma-informed yoga therapist and educator, her approach integrates advanced training in the therapeutic, technical and spiritual applications of yoga with an in-depth knowledge of trauma theory, attachment theory, internal family systems theory and somatic & transpersonal psychology.
 Kelly has decades of experience working in child and youth care, street outreach, residential treatment, and private yoga therapy practice. She currently specializes in offering individual yoga therapy sessions, therapeutic classes and workshops for individuals living with the impacts of acute or chronic stress, trauma and PTSD and the associated symptoms of addiction, anxiety, depression, chronic pain and chronic illness.
 Kelly is a professional member of The International Association of Yoga Therapists and The Center for Trauma & Embodiment.
 Kelly has offered private yoga therapy, therapeutic classes and programs at The Haven since 2013. She currently lives and works on Gabriola Island, the traditional, unceded territory of the Snuneymuxw Peoples.
Website: Kelly Price Yoga
Events with Kelly Price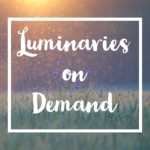 Luminaries on Demand
Open Dates
Lunch with Luminaries is a FREE webinar series to share different perspectives on a variety of topics of interest to our community. These talks pay homage to early Haven days where co-founders Ben and Jock invited various thought leaders into conversation – sometimes they agreed with the ideas shared and sometimes they didn't. We think this spirit of curiosity and generosity is an important core value we hold, and we're excited to recreate this concept today with time and space-transcending technology! Each webinar has a Haven Host who introduces or interviews the guest speaker, and in some cases takes Q&A…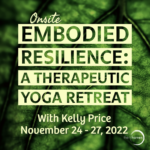 ONSITE: Embodied Resilience: A Therapeutic Yoga Retreat
April 13 - 16, 2023
When we regularly feel unsafe in our bodies due to chronic stress, chronic pain, illness or trauma, natural patterns within our nervous system can become patterns of dysregulation. If prolonged, these patterns can negatively impact our physical and psychological health, relationships, and ability to connect to joy, meaning and purpose.  This therapeutic retreat integrates yoga therapy, trauma theory, PolyVagal theory, Internal Family Systems, Attachment Theory and Neuroscience and offers a holistic framework for embodiment, befriending your nervous system and cultivating physiological and psychological resilience.  Each session will introduce trauma-informed, active and restorative yoga practices as opportunities to connect safely to…