A mom herself, Cayley is an experienced coach and facilitator who supports parents to bring more consciousness and fulfillment into their lives.
She has over 14 years personal and leadership development, facilitation and coaching experience. She was the Mindful Performance Manager at Lululemon where she designed and delivered personal development workshops and retreats to employees globally and was faculty on their Yoga Leadership Teacher Training program.
Her work is informed by her extensive study and practice of yoga and meditation, mentoring with Dr. Aurelie Athan, Ph.D, Faculty at Columbia University and the world's leading researcher on matrescence, and study of the Sociology of Motherhood Studies with Dr. Sophie Brock.
Her purpose is to lead with kindness.
Events with Cayley Benjamin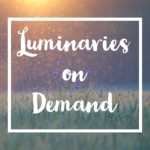 Luminaries on Demand
Open Dates
Lunch with Luminaries is a FREE webinar series to share different perspectives on a variety of topics of interest to our community. These talks pay homage to early Haven days where co-founders Ben and Jock invited various thought leaders into conversation – sometimes they agreed with the ideas shared and sometimes they didn't. We think this spirit of curiosity and generosity is an important core value we hold, and we're excited to recreate this concept today with time and space-transcending technology! Each webinar has a Haven Host who introduces or interviews the guest speaker, and in some cases takes Q&A…