Haven's 40th Birthday Party
August 11 - 13, 2023
Happy Birthday to Us!
The Haven is turning 40 this year.  We're having a bit of a mid-life crisis, and we're having a party anyway.  Join us for cake by the sea, deep listening to the land and (re)connection with each other while we set our course for the next 40 years.  It's going to be a beautiful time together at one of our favourite places with some of our favourite people.
Reserve your room and meal package and we will provide the celebration!
Weekend highlights
Friday check in with your fellow birthday party-ers
Elfi and Gary will lead us in a prayer dance for Universal Peace. Some of you will have experienced these dances in Elfi's morning movement class.  You can find more information here
Snuneymuxw Elder and Knowledge Keeper, Dave Bodaly, will share stories of the land
We will venture onto the Haven land to have a conversation with one of the many 'other than human' beings that make up Haven's 7 beloved acres.
Birthday cake on the front lawn!
Showtime! Learn a bit of choreography and also get a little leadership training with with Denise Goldbeck (KITS leader) and her amazing Red Team!
Time for connecting with others, soaking in the hot tub, swimming in the pool or the ocean, taking in the view.
Haven sunsets!
Sunday morning gratitude circle
Meals
Your meal package includes dinner Friday through to breakfast Sunday provided by Bruno's Kitchen and Catering.
Saturday lunch is complimentary homemade soup and bread provided by Haven.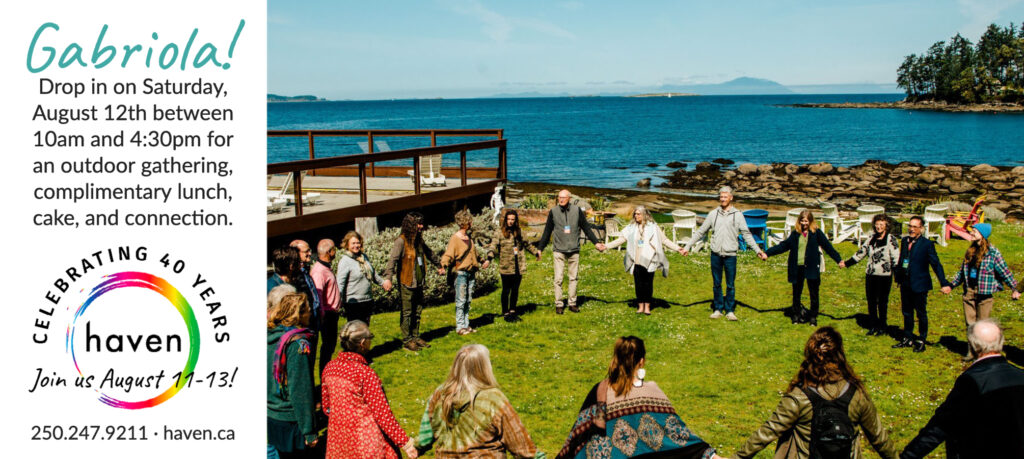 We look forward to seeing you there!!