ONSITE: Self Compassion
With Graemme Brown and Jo-Ann Kevala
May 4 - 7, 2023
Self Compassion
The joy and good humour of self-compassion stand in contrast with the harshness of self-hate. This program explores both ends of this polarity.
The program will benefit anyone who has tried to be the person they "should" be and, in the process, lost touch with the person within. It offers an expansion and exploration of The Haven's Selves Model that is presented in Come Alive. (But you do not have to have done Come Alive in order to take this program.)
This program is for you if you:
Recognize self-harming patterns in your health or relationships
Have found outward success but inner emptiness
Experience destructive addictive tendencies
Experience self-hate
Care for others, but not yourself
Want to become your own best friend
Read more about Self-compassion on the Shen Blog.
Format:
Using music, guided imagery, gestalt, art, stories and other experiential forms, you will have an opportunity to learn about the paths that lead you away from yourself, and explore paths that can direct you towards self-acceptance. There will be opportunities to explore blame and victimhood, patterns of striving that lead to self-hate, and a variety of ways we can move toward self-compassion.
Investment:
Our Earlybird tuition price of $750 is available up to one month prior to the program start.  Regular tuition is $810.
We are offering private and shared room options.
You can find our cancellation policy here
Schedule:
Your program begins with dinner at 6pm and your first session at 7:30pm
Daily schedule:
Breakfast 8:00 – 9:00am
Morning session 9:15am to noon
Lunch noon to 1:00pm
Afternoon session 3:00 – 6:00pm
Dinner 6:00 – 7:00pm
Evening session 7:30 – 9:00pm
Your program finishes with lunch on the last day.
Transportation:
If you are travelling to Gabriola as a foot passenger on the Gabriola Ferry a shuttle to The Haven can be requested.  Information on this option will be included in your pre-arrival email.
Covid 19 Protocols and Mask Mandates:
The Haven is currently following the BC Provincial health guidelines which means that proof of vaccination is no longer required to register for this program.  Masks will no longer be required to be worn inside session rooms, while those who wish to continue wearing masks may do so.
Participants are required to self-monitor for symptoms of illness, and are asked to isolate from others when showing symptoms.
Review our current Communicable Disease Safety Protocols to keep us all healthy on property.
Admission requirements: The student must have the desire and ability to learn.  Must demonstrate a capacity for responsible self care, responsible self organization and sound mental health.  The student must understand and speak English.
This program does not require approval by the registrar of the Private Training Institutions Branch (PTIB) of the Ministry of Advanced Education, Skills and Training.  As such, the registrar did not review this program. What does this mean? Click here to learn more.
Leaders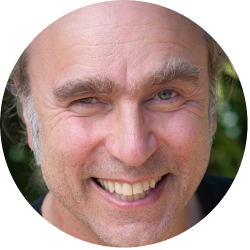 Graemme Brown
Graemme Brown (Dip.C / SEP) runs a private counseling practice on Gabriola Island. Associated with The Haven since attending his first experiential workshop there in 1985, he is dedicated to compassionate and gentle inquiry. Drawing on his expertise with the family-systems approach of Virginia Satir, Jungian shadow work and the trauma healing of Peter Levine's Somatic Experiencing system, Graemme's approach is to assist people to re-connect with their innate resilience and aliveness, fostering healthier relationships within the self, with others and with the planet. As a member of The Haven's core faculty, Graemme co-leads Come Alive, Living Alive: Self Awareness,…
Learn more about Graemme Brown

Jo-Ann Kevala
Jo-Ann Kevala Dip HGF, Dip BA is an experienced executive with over 25 years of progressive leadership experience in the high-tech and emerging technologies businesses. The Haven has been a catalyst in her journey to finding self-compassion, balance and a way to live a more congruent life. This has extended to include integration and application of many Haven concepts and models to her relationships, executive coaching, training and business leadership. As an entrepreneur together with her husband Rob, Jo-Ann owns and operates Hidden Pond a bed and breakfast and retreat center in Metchosin, BC. Jo-Ann leads Self Compassion as well as leads…
Learn more about Jo-Ann Kevala