Lunch with Luminaries: Befriending Your Nervous System
With Kelly Price
September 20, 2022
Join us for a FREE webinar with Kelly Price, a Certified Yoga Therapist, Certified Trauma Center Trauma Sensitive Yoga Facilitator, Registered Yoga Teacher and Continuing Education Provider.
Yoga is a comprehensive mind-body practice that is particularly effective for improving physical and mental health and alleviating suffering at the deepest levels. Yoga's potential to regulate our nervous system, decrease inflammation, foster immunity, manage mood and increase resilience and wellbeing, is now being recognized internationally.
This accessible, therapeutic yoga practice is designed to support individuals living with the impacts of acute or chronic stress, or trauma, and the associated symptoms of anxiety, depression, addiction and/or PTSD. Join us for a free 1-hour mini-intro to the theory of this practice, and some take-home exercises you can try on your own.
The full 4-week Befriending Your Nervous System course is for anyone who wants to : 
Safely explore connecting to your body and breath.

Learn simple, effective practices for cultivating a felt sense of safety & connection.

Learn simple, effective practices for tending and befriending your nervous system. 

Support your long-term health, wellbeing and resilience.
Schedule & Format:
Tuesday, September 20, 12-1pm PT
Zoom will be open 15 minutes before and after the session for technical support and informal connection with others.
This free 1-hour webinar will feature:
Presentation and discussion

Opportunities to learn about the topic

Access to the recording for 7 days following the event

Informal connection time post-program
Registration: 
This seminar is free to attend! And if you want to support the work Haven is doing, there's an option to contribute during registration.
The Haven is a registered charity and not-for-profit organization. Your support allows us to offer great events like this one and continue to sustain and expand the important work we do.
Help us Share:
Do you know anyone who might be interested in attending this free webinar? Help us invite others by sharing on social media or by email. Thanks for your help! 
About Zoom:
This online event will be hosted in Zoom, a video conferencing software that is free for participants and easy to use on a variety of devices. You will need to have a device (desktop computer or laptop recommended; tablet or smartphone can work too), reliable internet connection, and sound capabilities (speaker). You can test your device connection and compatibility in advance here: zoom.us/test
About the

Lunch

 with Luminaries Series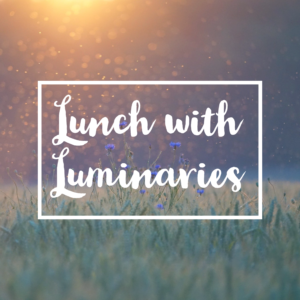 Our webinar series – Lunch with Luminaries – aims to share different perspectives on a variety of topics of interest to our community. These talks pay homage to early Haven days where co-founders Ben and Jock invited various thought leaders into conversation – sometimes they agreed with the ideas shared and sometimes they didn't. We think this spirit of curiosity and generosity is an important core value we hold, and we're excited to recreate this concept today with time and space-transcending technology!
Each webinar will have a Haven Host who will introduce or interview the guest speaker and in some cases take Q&A from the audience. The focus of these 1-hour live events is expansion, learning, and curiosity. They are free for anyone to attend and will be hosted in Zoom, an easy-to-use event platform. Registrants will receive limited-time access to the recording following the event.
---
Leader

Kelly Price
Kelly Price is a Certified Yoga Therapist (C-IAYT), Trauma Sensitive Yoga Facilitator (TCTSY-F), and Continuing Education Provider (YA-CEP). She is currently completing a Master's degree in Counseling Psychology.      As a trauma-informed yoga therapist and educator, her approach integrates advanced training in the therapeutic, technical and spiritual applications of yoga with an in-depth knowledge of trauma theory, attachment theory, internal family systems theory and somatic & transpersonal psychology.  Kelly has decades of experience working in child and youth care, street outreach, residential treatment, and private yoga therapy practice. She currently specializes in offering individual yoga therapy sessions, therapeutic classes and workshops…
Learn more about Kelly Price