Lunch with Luminaries: Journey Together
With Jennifer Roger and Blair Stanley
June 7, 2022
Join us for a FREE webinar with Jenifer Roger & Blair Stanley, medical doctors and life partners for over 10 years.
"Your task is not to seek for love,  but merely to seek and find all the barriers within yourself that you have built up against it" – Rumi
Emotionally intimate relationships feed a fundamental desire for many. Are you curious about what makes a conscious relationship work? Are you ready to dive into that relationship you've always wanted or rekindle the intimacy you both have temporarily lost? Do you need help demystifying the journey into conscious relationship?
As medical doctors and life partners for over 10 years, Blair and Jen have been on a journey together in relationship discovering and practicing healthy and conscious relating. Their workshops at the Haven are heavily influenced by the work of Virginia Satir, Harville Hendrix, The Gottmans, Sue Johnson and James Hollis.  They share the ways that they have eagerly applied these teachings in their daily relating. It's been a passion project for them to design and give courses for those curious to dig deep and grow through exploration of themselves within intimate relationship.
In this brief Lunch with Luminaries, Blair and Jen will discuss the common "traps" couples enter into in relationships and help explain the skills required to to turn this into an opportunity to grow together.
Some of us mistakenly believe that the goal in relationship is to get to a place where we never disagree or fight…. WRONG….
The "fight" or power struggle is a normal natural and very important part of relationship. It is an opportunity to explore our very unique and differing perspectives. It's an opportunity to get curious and lean in to our differences.
We may come together in relationship through our similarities; where we are comfortable. We grow (and experience passion) through exploration of our differences. This certainly isn't easy or smooth… exploring differences is messy and chaotic at times. However, if we are willing to put down our preconceptions and really get curious to see the world from our partner's differing perspective, then we broaden our own world view and expand as individuals ….. it's often a place of rebirth of the relationship and brings the gift of passion and romance.
Schedule & Format:
Tuesday, June 7th 2022, 12-1pm PT
Zoom will be open 15 minutes before and after the session for technical support and informal connection with others.
This free 1-hour webinar will feature:
Presentation and discussion

Opportunities to learn about the topic

Access to the recording for 7 days following the event

Informal connection time post-program
Registration: 
This seminar is free to attend! And if you want to support the work Haven is doing, there's an option to contribute during registration.
The Haven is a registered charity and not-for-profit organization. Your support allows us to offer great events like this one and continue to sustain and expand the important work we do.
Help us Share:
Do you know anyone who might be interested in attending this free webinar? Help us invite others by sharing on social media or by email. Thanks for your help! 
About Zoom:
This online event will be hosted in Zoom, a video conferencing software that is free for participants and easy to use on a variety of devices. You will need to have a device (desktop computer or laptop recommended; tablet or smartphone can work too), reliable internet connection, and sound capabilities (speaker). You can test your device connection and compatibility in advance here: zoom.us/test
About the

Lunch

 with Luminaries Series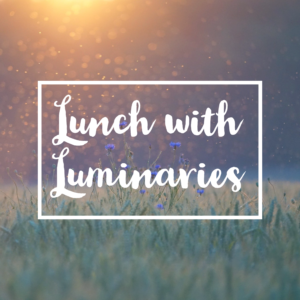 We're launching a new webinar series – Lunch with Luminaries – to share different perspectives on a variety of topics of interest to our community. These talks pay homage to early Haven days where co-founders Ben and Jock invited various thought leaders into conversation – sometimes they agreed with the ideas shared and sometimes they didn't. We think this spirit of curiosity and generosity is an important core value we hold, and we're excited to recreate this concept today with time and space-transcending technology!
Each webinar will have a Haven Host who will introduce or interview the guest speaker and in some cases take Q&A from the audience. The focus of these 1-hour live events is expansion, learning, and curiosity. They are free for anyone to attend and will be hosted in Zoom, an easy-to-use event platform. Please consider donating to Haven Foundation during registration. Registrants will receive limited-time access to the recording following the event.
Leader

Jennifer Roger and Blair Stanley
Jennifer Roger BAppSc(PT), MD, CCFP and Blair Stanley BSc, MD, FCFP are rural family physicians and clinical faculty with the University of British Columbia. They bring a passionate interest in promoting personal development to their work, as they see it as fundamental to an individual's wellness. As seasoned facilitators, they draw from a wealth of learnings and experience. Personally, Jen and Blair have each been through separation and divorce and lived as single people in their 40s before coming together as life partners. Together they lead Life after Separation and Relationships Skills for Singles, offering compassion, support and opportunity for growth through…
Learn more about Jennifer Roger and Blair Stanley