Lunch with Luminaries: Biofilia – your relationship to Nature
With Thierry Vrain
June 28, 2022
Join us for a FREE webinar with Thierry Vrain, a PhD soil biologist who formerly worked as an agriculture researcher for the Canadian government.
How aware are you of your relation to other living beings in "Nature"?
Biofilia is about affiliations and relationships with the natural world: Nature, Life, and the multitude of other living beings in your life. The concept of Nature in the western culture is Cartesian. We are the children of Descartes, clearly separate from (and above) the rest of creation. Even the dictionary defines Nature as everything that is not human. But modern science is now confirming traditional Indigenous perspectives of the living world: that we are all a big family; that every plant and animal is a "person" aware of its environment, making decisions, and with a distinct personality; and that it is so obvious that all beings have intelligence.
Modern biology tells us that all living creatures are made of the same molecules, that we are all closely related, and that all cells are intelligent – aware of their environment and adapting in real time, and that Life at the molecular level is amazingly complicated. Molecular biology is allowing us a peek at molecules at work in living cells, revealing that all cells function in the same way fundamentally. They have the same protein molecules and the same genetic code, and the same energy molecules activate all processes in all cells of all organisms.
In this webinar, we will survey a few of the striking qualities of Life at the molecular and cellular level, and then review the place of bacteria, archaea, fungi, protists, fungi, plants and animals in your life. This talk will be accessible to laypersons – no previous scientific knowledge is required!
Seeing the world from the point of view of other species is a cure for the disease of human self importance (Michael Pollan)
Schedule & Format:
Tuesday, June 28th 2022, 12-1pm PT
Zoom will be open 15 minutes before and after the session for technical support and informal connection with others.
This free 1-hour webinar will feature:
Presentation and discussion

Opportunities to learn about the topic

Access to the recording for 7 days following the event

Informal connection time post-program
Registration: 
This seminar is free to attend! And if you want to support the work Haven is doing, there's an option to contribute during registration.
The Haven is a registered charity and not-for-profit organization. Your support allows us to offer great events like this one and continue to sustain and expand the important work we do.
Help us Share:
Do you know anyone who might be interested in attending this free webinar? Help us invite others by sharing on social media or by email. Thanks for your help! 
About Zoom:
This online event will be hosted in Zoom, a video conferencing software that is free for participants and easy to use on a variety of devices. You will need to have a device (desktop computer or laptop recommended; tablet or smartphone can work too), reliable internet connection, and sound capabilities (speaker). You can test your device connection and compatibility in advance here: zoom.us/test
About the

Lunch

 with Luminaries Series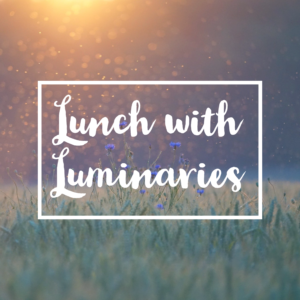 We're launching a new webinar series – Lunch with Luminaries – to share different perspectives on a variety of topics of interest to our community. These talks pay homage to early Haven days where co-founders Ben and Jock invited various thought leaders into conversation – sometimes they agreed with the ideas shared and sometimes they didn't. We think this spirit of curiosity and generosity is an important core value we hold, and we're excited to recreate this concept today with time and space-transcending technology!
Each webinar will have a Haven Host who will introduce or interview the guest speaker and in some cases take Q&A from the audience. The focus of these 1-hour live events is expansion, learning, and curiosity. They are free for anyone to attend and will be hosted in Zoom, an easy-to-use event platform. Please consider donating to Haven Foundation during registration. Registrants will receive limited-time access to the recording following the event.
Leader
Thierry Vrain
Thierry Vrain, born and raised in France, graduate studies in North Carolina, worked for 30 years in agricultural research as a soil biologist and finished his career in genetic engineering.  Thierry retired in 2003 and became an avid gardener after he met his wife Chanchal and they settled to create Innisfree on Vancouver Island (www.innisfreefarm.ca) Ten years ago, Thierry was heavily involved in campaigning against the use of Monsanto's herbicide RoundUp on food crops (https://www.youtube.com/results?search_query=thierry+vrain+oak+park). In the last few years he has put together video material that explains the science and makes clear the Biofilia message that he teaches at…
Learn more about Thierry Vrain