ONLINE: Transforming Addictions – Build & Expand Your Foundations in Recovery
With Wen-Shwu Lee and Vicky Frederiksen
March 1 - April 12, 2022
Are you in recovery from a substance, behavioural or other addiction?
Do you find yourself
Under stress and slipping into unhealthy patterns?
Worried about relapse and having reservations?
Trouble trusting or being intimate with others?
Struggling in destructive relationships?
Struggling with self-esteem or believing you're not "good enough"?
Having trouble establishing and keeping healthy boundaries?
In long- or short-term recovery and just wanting more out of life?
Many people who answer "Yes" to these questions have found that this Haven Program has offered the "missing link" in their recovery.
In this series we use embodied, experiential learning grounded in proven processes such as Satir, Neurobiology, Somatic Experiencing, Haven Approaches, and much more.
Series Format:
This 2-part series will be held on Zoom once a week, incorporating experiential exercises, group discussion, breakouts, presentations and more.  In addition to over 35 hours of live online learning, you will receive take-home practices and opportunities to connect with a buddy in the group. If you miss a session, you will be able to access the recordings.
You can register for one or both parts of this supportive and welcoming online zoom program.

This page is for Part A only!

The entire series extends over 4 months to ensure you have the consistency and support you need to build a resilient foundation and then sustain and enjoy the freedom of recovery and living life fully.
***There is a discount if you register for both Part A and Part B***
Here's what participants have said about the program:
"The Haven has managed to bring their unique, inspiring format and approach to the virtual platform. It's wonderful to be able to have a slice of Haven in my own home, especially in these challenging times." – Dr Helen Peel, past participant.

"The teachers were great, the class was inclusive, the learning was very relevant, and I can apply the tools in my everyday life." – Chantelle Voisin, past participant.
Part A: Transforming Addictions: Build and Expand Your Foundation in Recovery
Highlights:
Illuminating discussion on freedom and self-responsibility, the delicate and necessary balance between power and strength, creating self-compassion from shame.
Creating a safe and compassionate space with each other for sharing/listening.
Introduction to Satir and Haven Models
Learning about the neurobiology and Somatic Experiencing as it relates to addictions.
Tools for shifting perspectives and patterns and building new neural pathways for making and living in healthier choices.
Building a community of support.
Schedule:
Every Tuesday from 6:00 – 8:30 pm PT, for 7 weeks ~ March 1 – April 12
Investment: 
Accessibility and inclusion are important to us. Together with the facilitators, we are able to offer tiered pricing on this program. Please select a tier that fits your budget and current context.  Often, employers will sponsor, support, or reimburse for professional development programs like this one.
$398: Supported – made possible by our generous supporters
$548: Regular – standard tuition price
$688: Pay It Forward – helps support another participant to join
Special Offer! Package A and B
together

for $688
What Happens if I can't make a session?
We'll be sending out a recap following each session. Limited-time access to a recording of the teaching portion of the session will be available to registrants. Audio and video of participants will not be shared outside of this group without consent.
Confidentiality:
Transform Addictions Online fosters an environment that allows participants to explore openly and deeply. To create this safe and caring space we ask our participants to keep confidentiality; to not talk about others experiences and stories, and to not record any parts of the session themselves. Breakout rooms cannot be recorded, and our support team can pause the recording at any time in the main session. Recordings will not be shared outside of this group. All exercises are invitations, and we respect each individual's choice on level of participation.
Note: This program is not a replacement for clinical treatment for alcohol, drug, food, and other addictions, but rather a complement or follow-up to protocols like the 12-steps or counseling. By integrating the Haven models based on eastern and western principles and philosophy, you'll benefit from a holistic approach to your recovery. This program is not for people actively using drugs or alcohol. 
Technical requirements:
This online program will be hosted on Zoom, a video conferencing software that is free for participants and easy to use on a variety of devices. You will need to have a device (desktop computer or laptop recommended; tablet or smartphone can work too), reliable internet connection, and sound capabilities (headset recommended; built in or external microphone or speaker systems can work too). You can test your device connection and compatibility in advance here: zoom.us/test
You will be invited to join the call up to 15 minutes early to receive technical support.
This program does not require approval by the registrar of the Private Training Institutions Branch (PTIB) of the Ministry of Advanced Education, Skills and Training. As such, the registrar did not review this program. What does this mean? Click here to learn more.
Leaders

Wen-Shwu Lee
Wen-Shwu Lee, Haven Core Faculty, CEC, Dip-C, MBA, BFA, BA, is a passionate, personal and professional corporate trainer and coach. She leads Come Alive and other programs in Canada, Taiwan and China. Over the years her work has been focusing on issues of addictive behaviours and co-dependent relationships.
Learn more about Wen-Shwu Lee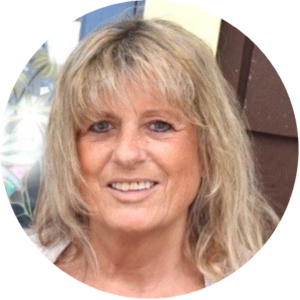 Vicky Frederiksen
Vicky Frederiksen, Haven Assistant Faculty, Dip-C, Dip-HGF,  has been on the assistant faculty and leading programs at the Haven Institute for several years. She has also been training and assisting programs with Maria Gomori in the Satir model, for almost 10 years and has developed and facilitated her own programs in the Satir model for people and families. When she is not working: she loves painting, playing with her pets, exercising outdoors, and enjoying her community. She comes to you with the belief that we all have within us the resources, talents and ability to change.
Learn more about Vicky Frederiksen