ONSITE: Come Alive
April 17 - 22, 2022
Come Alive is our most popular core program and the perfect place to begin or continue your journey in personal or professional growth and transformation.
People from all walks of life, backgrounds, experiences, lifestyles, and locations join us and most experience something profound.
We are grateful for the land and sea that sustain us.  We are deeply grateful to learn, live and play on 7 acres of forested land by the sea that is the ancestral, traditional, and unceded territory of the Snuneymuxw First Nation, a community of Coast Salish Peoples.  Our peaceful yet vibrant centre on Gabriola Island offers a natural environment that supports the exploration of our innermost selves and our relationships with others. It's a special place where we can take back our lives and discover our potential.
The magic of Come Alive is in our unique history, renowned communication and relationship models, community dynamic, and oceanfront setting on Gabriola Island. With support and guidance, you will learn and practice the Haven models of communication, relationship and self-responsibility, through a range of opportunities for personal learning.  Group activities, discussions and experiences take place in both large and small group settings.
Come Alive is for me if…
I want to deepen my self-awareness and move beyond self-imposed limits
I'm ready to develop greater self-compassion and self-acceptance
I want to experience the freedom of being my whole and authentic self – mind, body, and spirit
I'm open to learning and practicing a transformative model for communication
I want valuable insights to strengthen my health and well-being
I want to break through self-limiting patterns and live the life I want
I'm curious about myself and my place in relationships, community, and the world
I want to rediscover joy and meaning in life
I want more harmonious, loving and fulfilling relationships; I want to know what intimacy really is
I am looking to improve my professional skills; to be more authentic as a leader, bolster my 'soft' skills, and develop better relationships

 with my co-workers.

I want to shake things up and try something different… 
"For the first time, I felt comfortable in my own skin…"
Program highlights:
5 days in a serene oceanfront setting on

Gabriola

Island to focus on yourself.
Opportunity to learn from, relate to, and deeply connect with others.
A unique East meets West approach developed by a psychiatrist (Ben Wong) and a medical doctor and acupuncturist (Jock

McKeen

).
Experiential learning through diverse methods: bodywork, breath, visualization meditation, movement, and cognitive skill development.
A powerful approach to developing self-compassion and deeper self-awareness.
40 years of continued success with thousands of participants from around the world.
Select expert program leaders, who are highly trained at The Haven and in their various professions.
Unparalleled support and a high ratio of participants to leadership team.
Opportunities to further heal and explore mind-body-spirit connection with onsite

bodyworkers

.
A full schedule, complete with daily breaks for introspection, connecting with others, rest, relaxing in the oceanfront hot tub, exploring nearby trails, and more.
Support to integrate your learning beyond The Haven through one-on-one coaching, online video meetings, and various local groups.
Investment:
Our Earlybird tuition price of $1490 is available specifically for this session to those registered and paid in full one month prior to the program start.  Full tuition is $1590.
We are offering private and shared room options, if room sharing is not permitted due to tightened Covid restrictions in the fall then we will be in touch with participants about moving to single accommodation.
Shared accommodation and meal packages start at $530.25
Private accommodation and meal packages start at $886.65
You can find our cancellation policy here
Schedule:
Your program begins with dinner at 6pm and your first session at 7:30pm
Daily schedule:
Breakfast 8-9:15am
Morning session 9:15am to noon
Lunch noon to 3:00pm
Afternoon session 3:00-6:00pm
Dinner 6:00 – 7pm
Evening session 7:30pm
Afternoon and evening sessions can vary.  Your program finishes with lunch on the last day
Transportation:
If you are travelling to Gabriola as a foot passenger on the Gabriola Ferry a shuttle to The Haven can be requested.  Information on this option will be included in your pre-arrival email.
Recommended Resources:
Here are book titles that can complement and enhance your learning in this program. You can purchase when you are at Haven, or order online. Click to learn more:
+ Being: A Manual for Life by Bennet Wong & Jock McKeen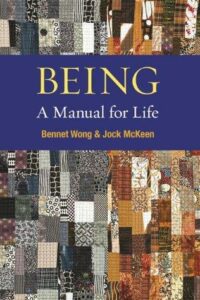 Admission requirements: The student must have the desire and ability to learn.  Must demonstrate a capacity for responsible self care, responsible self organization and sound mental health.  The student must understand and speak English.
This program does not require approval by the registrar of the Private Training Institutions Branch (PTIB) of the Ministry of Advanced Education, Skills and Training.  As such, the registrar did not review this program. What does this mean? Click here to learn more.
Covid 19 Protocols and Mask Mandates:
If you wish to register you will be required to provide proof of full double) vaccination documentation by scanning your BC Vaccine Card when you check-in at The Haven. You can find out more and access a digital copy of your BC Vaccine Card here, or by registering with Health Gateway, https://www2.gov.bc.ca/gov/content/health/managing-your-health/health-gateway.  If you are from out of province you will need to provide an officially recognized proof of vaccine from your province.
On August 24, 2021, the BC provincial health authority mandated that masks were to be worn in all indoor open public areas.  After consulting with the Vancouver Island Health Authority and WorkSafe BC, it has been determined that Haven session rooms fall under the category of indoor open public areas at this time.   Haven will be constantly monitoring future Health Authority announcements, and will adjust our health policies accordingly.
Masks will be required to be worn inside the session room.  Weather permitting some sessions will be held outside, please bring appropriate outdoor clothing.  We will update you if this changes.  If you have any questions please check with the Registrars.
We have crafted a clear, comprehensive set of guidelines that apply to everyone on the property.  Please read our current Communicable Disease Safety Protocols to help keep us all healthy on property.