ONSITE: Living Alive: Meaningful Connections
With Gillian Enright
September 4 - 29, 2022
The Living Alive programs offer the unique experience of time, space, and guidance to help you (re)discover who you truly are. For 25 days, you'll have the opportunity to create and establish new or different patterns for conscious living. In Living Alive: Self Awareness the focus is on self-awareness – becoming aware of your individual patterns of behaviour and energy. The focus for Living Alive: Meaningful Connections is relationships – how you see yourself, how other people see you, and how you engage in relationships.
People from all walks of life, backgrounds, experiences, lifestyles, and locations join us and most experience something profound.
We are grateful for the land and sea that sustain us.  We are deeply grateful to learn, live and play on 7 acres of forested land by the sea that is the ancestral, traditional, and unceded territory of the Snuneymuxw First Nation, a community of Coast Salish Peoples.  Our peaceful yet vibrant centre on Gabriola Island offers a natural environment that supports the exploration of our innermost selves and our relationships with others. It's a special place where we can take back our lives and discover our potential.
In a highly experiential and choice-based environment, you'll immerse yourself in The Haven's models and concepts, with opportunities to go deeper, practice, and expand your range of being. Participants are encouraged to question their assumptions, explore their beliefs, and challenge their patterns in a respectful environment. Join a community of seekers and engage in the ultimate experience of self-discovery and transformation.
Living Alive: Meaningful Connections
Relationships: discovering how we see ourselves, how others see us, and how we are in relationships.
Living Alive: Meaningful Connections (formerly Phase II) is for you if any of the following applies:
I want to develop greater self-awareness of how I establish, maintain, end relationships – close, casual, and professional.
I want to learn how others interpret and experience my style of relating.
I am going through a transition involving others and am unsure what happens next.
I want to discover how I respond to topics such as commitment, vulnerability, security, romance, power struggle, attachment styles, 'Family of Origin', caretaking vs caring, embodiment, conflict, sexuality.
I want to build relationship skills and shift patterns of dependency, jealousy, defensiveness, control, blame, placating,  etc.
I want to examine and explore my beliefs and biases around gender, sexuality, sensuality, and intimacy.
I want an opportunity to integrate someone from my personal life into my learning at The Haven. Contact the registrars to learn more about the optional 3-day Relationships component where you can invite someone to join your experience.
"I can have meaningful, alive relationships without denying or disconnecting from what is true in my mind, body, heart. I can be transparent and open about my reality, and thus open the bridge to knowing another. This is the kind of stuff my dreams are made of."
– Rye Green, Living Alive Phase II
Living Alive program Highlights:
An in-depth opportunity to engage more consciously and fully in your life and relationships.
Time away to reconnect with yourself and nature on The Haven's beautiful 7-acre oceanfront property.
An opportunity to take your personal growth and Haven-style learning to the next level 
For those who have attended a Come Alive, we will take a deeper dive into The Haven's models: Communication, Power & Strength, Resonance, Selves.
For those who have not attended a Come Alive there will be plenty of opportunities to learn, practice and integrate these models.
Guided experiences designed to heighten your physical, intellectual, and emotional awareness.
A meaningful and enduring investment in your wellbeing: 25 days of radical self-discovery and transformation.
Experienced program leaders, who are highly trained at The Haven and in their various professions.
Deep investment, continuity, and care from assistants and interns who bring a variety of diverse and complementary skill sets to their Haven training. This support team means a low ratio of participants to leaders. 
A long history with hundreds of Living Alive participants reporting continued personal and professional transformation post-program.
Take-home tools to support integration of learning.
A full program schedule, plus daily breaks for introspection, connecting with others, rest, relaxing in the oceanfront hot tub, exploring nearby trails, and more.
Achievement of pre-requisites required to pursue a Diploma or Certificate at The Haven (if that's of interest!)
Investment: 
Accessibility and inclusion are important to us.  We're offering a 15% discounted tuition price if you register by August 4th.  Get all of your meals, shared accommodation, and 25 days of programming starting at $8176.25 +tax.   Private room options are also available.
Schedule:
Your program begins with dinner at 6pm, at 7followed by your first session at 7:30pm
Daily schedule:
Breakfast 8-9:00am
Morning session most days 9:15am to noon, with a break midway
Lunch noon to 1:00pm
Afternoon session most days 3:00-6:00pm, with a break midway
Dinner 6:00 – 7:30pm
Evening session most days 7:30 – 9:00pm
Afternoon and evening sessions can vary.  Your program finishes at 11:30am on the last day, and lunch is included
Transportation:
If you are travelling to Gabriola as a foot passenger on the Gabriola Ferry a shuttle to The Haven can be requested.  Information on this option will be included in your pre-arrival email.
Recommended Resources:
Here are book titles that can complement and enhance your learning in this program. You can purchase when you are at Haven, or order online. Click to learn more:
+ Being: A Manual for Life by Bennet Wong & Jock McKeen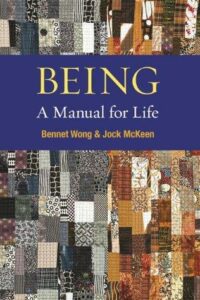 + Joining: The Relationship Garden by Bennet Wong & Jock McKeen
Admission requirements: The student must have the desire and ability to learn.  Must demonstrate a capacity for responsible self care, responsible self organization and sound mental health.  The student must understand and speak English.
This program does not require approval by the registrar of the Private Training Institutions Branch (PTIB) of the Ministry of Advanced Education, Skills and Training.  As such, the registrar did not review this program. What does this mean? Click here to learn more.
Covid 19 Protocols and Mask Mandates:
If you wish to register you will be required to provide proof of full double) vaccination documentation by scanning your BC Vaccine Card when you check-in at The Haven. You can find out more and access a digital copy of your BC Vaccine Card here, or by registering with Health Gateway, https://www2.gov.bc.ca/gov/content/health/managing-your-health/health-gateway.  If you are from out of province you will need to provide an officially recognized proof of vaccine from your province.
On August 24, 2021, the BC provincial health authority mandated that masks were to be worn in all indoor open public areas.  After consulting with the Vancouver Island Health Authority and WorkSafe BC, it has been determined that Haven session rooms fall under the category of indoor open public areas at this time.   Haven will be constantly monitoring future Health Authority announcements, and will adjust our health policies accordingly.  If the current mandate is in place at the time this program is delivered then masks will be required to be worn inside the session room.  Weather permitting some sessions will be held outside, please bring appropriate outdoor clothing.  We will update you if this changes.  If you have any questions please check with the Registrars.
Leader

Gillian Enright
Gillian Enright RMT, BA, DipC, Cert Gerontology is an accomplished teacher in holistic health body dynamics. She has most recently been practicing and teaching as a Somatic body worker and counsellor as well as a registered massage therapist. She has over 20 years years of post-traumatic counseling experience with youth, families and communities.  Her educational path and life experience has led to her passion in evoking the conscious awakening of the body's full expression of a divine life. She has been associated with The Haven for 20 years and leads Come Alive and Living Alive II.  Gillian leads her programs with a…
Learn more about Gillian Enright