Lunch with Luminaries: Evidence-based Happiness
With Dr Fred Voon
November 16, 2021
 Join us for a free webinar with Dr. Fred Voon, Emergency Physician.
Dr. Fred Voon is an Emergency Physician who sees patients every every shift who are struggling with anxiety, depression, suicidality, grief, or chronic pain. He's also had lived experience with divorce and renewal, coping with the stress of a pandemic, mindfulness, and CBT.
This seminar will summarize lessons learned from the intersection of psychology, neuroscience, Western Medicine, and Eastern practices. Learn wellness strategies backed by research that he shares with medical colleagues. Also find out resources he shares in the Emergency Department daily that you can use at home.
Learn about:
The Catch 22's of depression
Non-suicidal self-injury
Happiness definitions and psychology
BC programs available that are funded by MSP and physician led
A simple technique for emotional distress tolerance
Resources for chronic pain and anxiety
When to go to the Emergency department for mental health issues
Schedule & Format:
Tuesday, November 16th, 12-1pm PT
Zoom will be open 15 minutes before and after the session for technical support and informal connection with others.
This free 1-hour webinar will feature:
Presentation and discussion

Opportunities to learn about the topic

Limited-time access to the recording



Informal connection time post-program
Registration: 
Donations to Haven Foundation during registration are greatly appreciated, but not required to join. Registrants will have limited-time access to a recording.
The Haven is a registered charity and not-for-profit organization.
Your support allows us to offer great events like this one and continue to sustain and expand the important work we do. Donations made during event registration are tax receipt eligible in Canada. If you are in the US and would like a tax receipt or wish to donate by e-transfer, cheque, other other method, you can learn more about that
here
. Please reference this event when you make a donation using those alternative methods so that we can attribute your generosity appropriately.
Help us Share:
Do you know anyone who might be interested in attending this free webinar? Help us invite others by sharing on social media or by email. Thanks for your help! 
About Zoom:
This online event will be hosted in Zoom, a video conferencing software that is free for participants and easy to use on a variety of devices. You will need to have a device (desktop computer or laptop recommended; tablet or smartphone can work too), reliable internet connection, and sound capabilities (speaker). You can test your device connection and compatibility in advance here: zoom.us/test
About the

Lunch

 with Luminaries Series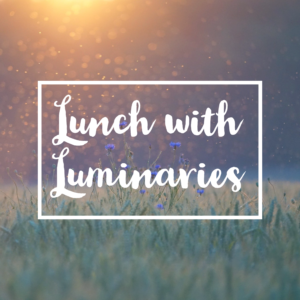 We're launching a new webinar series – Lunch with Luminaries – to share different perspectives on a variety of topics of interest to our community. These talks pay homage to early Haven days where co-founders Ben and Jock invited various thought leaders into conversation – sometimes they agreed with the ideas shared and sometimes they didn't. We think this spirit of curiosity and generosity is an important core value we hold, and we're excited to recreate this concept today with time and space-transcending technology!
Each webinar will have a Haven Host who will introduce or interview the guest speaker and in some cases take Q&A from the audience. The focus of these 1-hour live events is expansion, learning, and curiosity. They are free for anyone to attend and will be hosted in Zoom, an easy-to-use event platform. Please consider donating to Haven Foundation during registration. Registrants will receive limited-time access to the recording following the event.
Leader

Dr Fred Voon
Dr Voon has been an MD for 20 years, with 15 years experience in the Emergency Department. He's the author of "Your Inside Guide to the Emergency Department—And How to Prevent Having to Go!" a non-fiction for the public aiming to increase health literacy. He's a Clinical Assistant Professor at UBC Faculty of Medicine, Co-President of the South Island Medical Staff Association (MSA), Peer Supporter and member of the MSA Physician Health and Wellness Committee, and President of Victoria Emergency Physicians' Management. Contact: DrVoon.ca
Learn more about Dr Fred Voon