Lunch with Luminaries: Low-Energy States – what are they and how can we work with them?
With Kathrin Stauffer
September 21, 2021
 Join us for a free webinar with Kathrin Stauffer PhD, UKCP Registered Body Psychotherapist.
For many people, cultivating expression of emotions offers a way of experiencing greater aliveness and a more fulfilled life. But some individuals experience the expression of emotions as dangerous and overwhelming and do not have access to this kind of spontaneity. These are often individuals who have experienced substantial early trauma and as a result have developed a preponderance of low-energy muscle in their bodies.
We are just beginning to understand how such low-energy states come about and how we can work with them, both psychologically and in bodywork. Psychologically, the key is to 'resource' the person – which means to increase their resilience and containment of strong feelings as well as to help them widen the range of available options for managing life; on the level of the body, we need to 'dose down' our interventions so that the person can inhabit their body with greater ease.
I will talk about my understanding of this group of individuals and, if time allows, guide you in a few exercises to illustrate my material.
Schedule & Format:
Tuesday, September 21, 12-1pm PT
Zoom will be open 15 minutes before and after the session for technical support and informal connection with others.
This free 1-hour webinar will feature:
Presentation and discussion

Opportunities to learn about the topic

Limited-time access to the recording



Informal connection time post-program
Registration: 
Donations to Haven Foundation during registration are greatly appreciated, but not required to join. Registrants will have limited-time access to a recording.
The Haven is a registered charity and not-for-profit organization.
Your support allows us to offer great events like this one and continue to sustain and expand the important work we do. Donations made during event registration are tax receipt eligible in Canada. If you are in the US and would like a tax receipt or wish to donate by e-transfer, cheque, other other method, you can learn more about that
here
. Please reference this event when you make a donation using those alternative methods so that we can attribute your generosity appropriately.
Help us Share:
Do you know anyone who might be interested in attending this free webinar? Help us invite others by sharing on social media or by email. Thanks for your help! 
About Zoom:
This online event will be hosted in Zoom, a video conferencing software that is free for participants and easy to use on a variety of devices. You will need to have a device (desktop computer or laptop recommended; tablet or smartphone can work too), reliable internet connection, and sound capabilities (speaker). You can test your device connection and compatibility in advance here: zoom.us/test
About the

Lunch

 with Luminaries Series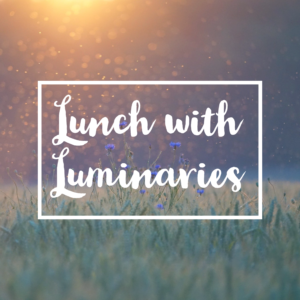 We're launching a new webinar series – Lunch with Luminaries – to share different perspectives on a variety of topics of interest to our community. These talks pay homage to early Haven days where co-founders Ben and Jock invited various thought leaders into conversation – sometimes they agreed with the ideas shared and sometimes they didn't. We think this spirit of curiosity and generosity is an important core value we hold, and we're excited to recreate this concept today with time and space-transcending technology!
Each webinar will have a Haven Host who will introduce or interview the guest speaker and in some cases take Q&A from the audience. The focus of these 1-hour live events is expansion, learning, and curiosity. They are free for anyone to attend and will be hosted in Zoom, an easy-to-use event platform. Please consider donating to Haven Foundation during registration. Registrants will receive limited-time access to the recording following the event.
Leader

Kathrin Stauffer
Kathrin Stauffer PhD, UKCP Registered Body Psychotherapist, is the author of two books: 'Emotional Neglect and the Adult in Therapy: Lifelong Consequences to a Lack of Early Attunement' (W.W. Norton 2020); and 'Anatomy & Physiology for Psychotherapists: Connecting Body & Soul' (W.W. Norton 2010). She was born and educated in Switzerland. Originally a research biochemist, she retrained at the Chiron Centre for Body Psychotherapy. She lives in Cambridge, UK, and works in private practice as a body and humanistic psychotherapist, EMDR practitioner, trainer and supervisor. www.stauffer.co.uk
Learn more about Kathrin Stauffer