ONLINE: Tree of Life // Indigenous Allyship
With Bev Hope and Frank Hope
July 29, 2021
Would you like to be a better informed ally, standing alongside Indigenous Peoples? Join this Tree of Life teaching circle to learn about and begin to understand the historical unresolved grief and trauma of Indigenous Peoples. An important part of the circle is the opportunity to share thoughts and feelings and listen to others.
All non-indigenous brothers and sisters are encouraged to participate. Everyone is welcome.
Program Highlights:
+ Cultural Opening
+ Tree of Life model
+ Talking & Listening Circle
Facilitators
Bev and Frank Hope (Shakes the Dust Hope Consulting) are based in Yellowknife, NT, and specializes in facilitating culturally respectful, safe processes in traditional healing and wellness. Through the provision of awareness and support, we assist individuals in becoming their own choice makers. They empower and encourage self-responsibility for individuals to become harmonious in all aspects of self; body, mind, and spirit.
They also specialize in Indian Residential Schools impacts and trauma recovery, including Inter-generational impacts. This includes addictions, recovery, suicide prevention, traditional/cultural healing, and traditional knowledge.
Along with formal training in our areas of specialization, both facilitators are Trauma Recovery Specialists having the Taking Flight International Trauma Recovery Certification acknowledged by the Canadian Association of Trauma Recovery Providers (CATRP).
Both facilitators are in the process of working towards internship at The Haven to attain Certification in the Haven Counselling Skills (Cert HCS). Both have completed the Come Alive Series, Phase I-Relationship with self. Bev completed Phase II-Relationship with other, sexuality and identity. Frank has completed 90 hours in Satir's Journey to Self & Family Reconstruction Workshops. Frank has completed 100 hours of Satir Training in Levels 1 & 2 including the Theoritical Base and the Family Reconstruction Process of the Satir Model both led by Maria Gomori.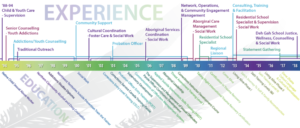 Read more about the experience of each of Bev and Frank in their bios below.
Format: 
In this 3-hour session, Frank will guide us through a cultural opening and present the Tree of Life model. Bev will facilitate the Sharing/Listening circle following. 
Thursday, July 29th, 5:30-8:30pm PT
Tiered Pricing:
Accessibility and inclusion are important to us. Together with the facilitator, we are able to offer tiered pricing on this program. Please select a tier that fits your budget and current context.
$69 – Community/Supported
$89 – Standard
$109- Pay-It-Forward/Supporter (helps others attend)
In addition to price options, we are able to offer a limited number of full or partial bursaries through the Community Diversity & Inclusion Fund. Applications must be received at least 7 days prior to the program start date. Learn more and apply for support here. Application Deadline: July 22nd, 2021.
Online Experience
:
This online program will be hosted on Zoom, a video conferencing software that is free for participants and easy to use on a variety of devices. You will need to have a device (desktop computer or laptop recommended; tablet or smartphone can work too), reliable internet connection, and sound capabilities (headset recommended; built in or external microphone or speaker systems can work too). You can test your device connection and compatibility in advance here: zoom.us/test
You will be invited to join the call up to 15 minutes early to receive technical support and we will leave the Zoom Room open for 15 minutes following the end of the session for informal connection.
Leaders

Bev Hope
Bev is of the Swampy Cree people from Grand Rapids, MB, on her mother's side, and is of Scottish/English descent on her father's side. As someone of mixed lineage, she offers herself as a bridge of understanding between both worlds. With 30 years of cumulative experience as a child and youth care work, and a social worker, Bev has been successful in all facets of service delivery. Her career has taken her from grass roots frontline work to leadership roles within different community, government, no-for-profit, provincial, and territorial organizations. Complimenting her abilities in contemporary educational settings, Bev is also very experienced…
Learn more about Bev Hope

Frank Hope
Frank is a South Slavey Dene and a Residential School Survivor from Liidlii Kue' (Fort Simpson). Frank understands and lives his traditions, speaks his language, and is a self-aware confident person who knows the strength of his abilities. He has a sound awareness of his culture, including the cultural diversity of the northern territories: the NT and Yukon. In addition to his living knowledge of the appropriate protocols of First Nation, Metis & Inuit traditions and values, Frank has a detailed understanding of the history and impacts of residential schools to compliment his working knowledge of the best healing practices across Canada. Frank has 15 years of experience in social justice…
Learn more about Frank Hope