双语 | Bilingual 成為合諧共創的生命 – 在薩提爾與海文的連結中讓生命精彩綻放 Becoming: The Satir & Haven Connection
With 瑪莉亞‧葛茉利 Maria Gomori, 麥基卓 Jock McKeen , 李文淑 Wen-Shwu Lee, 翻譯 Translator and 徐扬 Yang Xu, 翻譯 Translator
July 30 - 31, 2021
[Scroll down for English translation]
加入我們一起來見證這場引人入勝的對話 – 瑪莉亞‧葛茉利,薩提爾模式最重要的導師之一,和麥基卓,海文學院的聯合創始人,這兩位經驗豐富的教育工作者,將在線上有一場對話分享他們所代表的這兩種成長模式。
維琴尼亞‧薩提爾(1916~1988)被譽為世上最早也是最有影響力的家庭治療師之一,但她的成就遠超於此。她與海文學院的兩位創辦人黃煥祥博士(1930~2013)以及麥基卓博士結緣於1970年代,在共同好友瑪莉亞‧葛茉利的介紹下開始他們的友誼。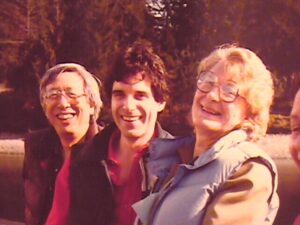 薩提爾博士曾說:『也許我在與人相處的工作中非常成功,然而這不是因為我知道多少,而是因為我是誰。』薩提爾模式強調在家庭動態的背景下『自我認可』;海文則以融合東西方概念的全人觀點來強調自我覺察以及在關係中的成長與轉化;這兩種模式有著異曲同工和相輔相成的效果!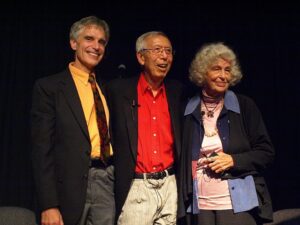 瑪莉亞於1974年遇到了煥祥和基卓。她最初是他們的學生,渴望學習他們新穎的方法。自此三人成為了終生的良師益友。瑪莉亞‧葛茉利是當今世上最重要的薩提爾模式之先驅。2021年五月她和基卓以及她在海文的朋友們在線上慶祝了她101歲的生日。
海文模式與薩提爾模式
『我們的連結是基於我們的相同,我們的學習是來自我們的不同。』
— 維琴尼亞‧薩提爾
儘管薩提爾模式和海文模式之間存在著一些差異,但其基本原理是非常相似的,有時只是用不同的語言來做描述。這兩種方法都在邀請我們更深入地探究『我是誰』這個難題。對於兩者而言,通往未知世界的旅程有著許多切入點和不同維度。請加入我們一起來見證這兩位終生合作的良師益友 – 聽聽他們如何獨特地掌握了兩人畢生之鑽研以及實踐的經驗!
『煥祥和基卓所創建的海文是一所獨特的生命教育學校,在這個特別的地方,人們可以了解自己、學習生活以及人際關係。他們為海文所開發的經驗及住宿式的課程是非常獨特的學習經驗,課程在協助人們深入且有意義地了解自己。就像維琴尼亞‧薩提爾一樣,他們不僅
是從理論上講授,他們更是從生活中的經驗來教導。』 — 瑪莉亞‧葛茉利
『海文是一個特殊的地方,一個家,一個環境,​​一個擁有自然和美麗的容器,人們可以在課堂內和環境中落實所學。" — 瑪莉亞‧葛茉利
活動形式
這一場兩小時的募款研討會您會享受到
兩位最受喜愛的海文老師,學生,也是大家的好朋友,瑪莉亞‧葛茉利和麥基卓的精彩對話。
課後有限期15天的課程回放錄影連結。
這個活動是一個Zoom上的網路研討會,歡迎世界各地說中文或英文的朋友們一起加入!這個中英双語的研討會將有現場中文翻譯,學員們有機會可以在聊天室當中彼此互動。假如您無法在現場參與課程,我們鼓勵您仍然可以報名註冊,在課後幾天我們將會通知一個效期15天的課程錄影連結。
活動時間
這個線上研討會依照您所在的地理位置將會在下列時間舉行:
太平洋時間 PT
中國標準時間 CST
7月31日,星期六,10 am-12:30 pm CST
活動費用
CAD$99
費用包含了2小時的線上研討課程,15天的課程錄影回顧,以及線上技術支援。
這個活動是海文的一個募款課程,謝謝瑪莉亞和基卓的慷慨奉獻,以及所有跨海的志工們,所有人直接或間接參與支持著這個活動的順利推展。海文是加拿大政府登記註冊的非營利機構,您的捐贈將協助於我們像這次一樣,持續推出精彩的課程來維繫並拓展我們所從事的身心成長教育事業。
多元及包容助學金的申請:
技術需求
這個線上課程將在免費的Zoom視頻會議軟體上進行,學員可以方便地在各種裝置上使用這個軟體。您會需要一個數位裝置,(我們推薦桌上型電腦或膝上型電腦,平板裝置或是手機也可以使用,)另外必須有順暢的網路連結和聲音功能,(我們推薦使用耳機,內建或外接式麥克風,或是發聲系統也可行。)您可以點選下面的連結來測試您的裝置連線以及實用性 zoom.us/test.  請在課前15分鐘提早上線,我們將提供必須的技術支援服務。
合作夥伴
這是一個加拿大海文和中國海文的跨國合作!感謝双方的合作我們才有機會將海文精彩的課程持續地從加拿大本土推廣到全球的平台上。 建議您先下載WeChat軟體,所以您可以更方便地收到我們的課程錄影以及課程提醒。
Program Description
Join us to witness this engaging dialogue between Maria Gomori, one of the foremost teachers of Satir processes, and Jock McKeen, the co-founder of the Haven. These experienced educators will discuss the two approaches they represent in an online dialogue.
Virginia Satir (1916~1988) was renowned as one of the first and foremost influential family therapists in the world; but she was much more than that. She and the two founders of The Haven, Dr. Bennet Wong (1930~2013) and Dr. Jock McKeen, began their friendship in the 1970's, introduced by their mutual friend Maria Gomori.
Dr. Satir once said: "Maybe I had so much success with people, not because of what I know but because of who I am." The Satir approach emphasizes "self-validation," in the context of family dynamics; Haven's holistic view focuses on self-awareness and relational growth, blending Eastern and Western concepts. Although the two approaches have different emphases in some ways, they complement each other well.
Maria met Ben and Jock in 1974. She started out as their student, eager to learn their novel approaches. Since then the three became lifetime colleagues and best friends. Maria Gomori is one of the world's foremost living proponents of the Satir Approach. In May 2021, she celebrated her 101st birthday online with Jock and her Haven friends.
The Haven & Satir Approaches
"We connect based on our sameness and we learn from our differentness." – Virginia Satir
Although there are some differences between the Satir and the Haven approaches, the underlying principles are very similar, sometimes described with different language. Both approaches invite us to investigate more deeply the puzzle of "who I am." For both, there are many entry points and dimensions to this journey into the unknown. Please join us to witness these two long-time collaborators and friends as they share their unique mastery of their life-long study and practice.
"The Haven that Ben and Jock created is a unique school of life, a special place where people could learn about themselves and their life and relationships. The experiential residential programs they developed for Haven are remarkable learning opportunities that help people to understand themselves in deep and meaningful ways. Like Virginia Satir, they did not just teach from theory; they taught from what they lived." – Maria Gomori
"Haven is a special place, a home, a context, a container with nature and beauty, where people can live the learnings both in the classroom and the environment." – Maria Gomori
Format 
This 2-hour fundraiser webinar will feature:
Great conversation between two of the Haven's most beloved teachers Maria Gomori and Jock McKeen
Limited-time 15 days access to the recording
This program is offered as an English and Mandarin bilingual Webinar on Zoom. We welcome Chinese speaking and/or English speaking audiences all around the world. Participants will have the opportunity to interact with each other in a breakout room. If you are unable to join this event, we encourage you to still register. Recordings of the talk will be accessible online for 15 days.
Timing
Depending on where you are in the world, the webinar will take place:
In Pacific Time:
July 30, Fri. 7-9:30 pm PT
In China Standard Time:
July 31, Sat. 10 am-12:30 pm CST
Technical Requirements
This online event will be hosted on Zoom, a video conferencing software that is free for participants and easy to use on a variety of devices. You will need to have a device (desktop computer or laptop recommended; tablet or smartphone can work too,) reliable internet connection, and sound capabilities (headset recommended; built in or external microphone or speaker systems can work too.) You can test your device connection and compatibility in advance here: zoom.us/test. You will be invited to join the call up to 15 minutes early to receive technical support.
Program Fee
CAD$99
The price includes 2 hours of live webinar, technical support, and access to the recording for 15 days.
This event is a Fundraiser for the Haven. We thank Maria and Jock, who have donated their time, and all volunteers across the oceans who directly or indirectly support the success of this program. The Haven is a registered charity and not-for-profit organization. Your support allows us to offer great events like this one; and help us continue to sustain and expand the important work we do.
Access & Inclusion:
While this event is a fundraiser for the Haven, we want to remain as accessible and inclusive as we can be! A limited number of full or partial bursaries are available through our
Community

 Diversity & Inclusion 

Fund
. Applications must be received at least 7 days prior to the start date. Learn more and apply for support 
here
.
Funding
Application Deadline: July 23rd, 2021.
Partnership
This program is a partnership between The Haven (Canada) and Haiwen (China). We are grateful for the co-sponsorship so we can continue to offer transformational programs through The Haven and internationally. It is recommended that you download WeChat so that you can receive the recordings and program reminders more easily.
Leaders