Lunch with Luminaries: How to Build a Stronger Brain
With Jennifer Fraser
July 6, 2021
Join us for a free webinar with Jennifer Fraser, PhD, a writer and an award-winning teacher specializing in the language of neuroscience and the study of bullying, abuse, brains, and holistic health. 
The more we learn about neuroplasticity—namely that we can change our brains—the more we understand how embodied practices are healing and healthy. We have the capacity to change our brains until our very last moment on the planet. Just like a muscle, we can make our brains more flexible, stronger and more efficient. Learn ways to strengthen your brain in order to make it healthy, happy and high-performing.
Schedule & Format:
Tuesday, July 6th: 12-1pm PT
This free 1-hour webinar will feature:
Presentation and discussion

Opportunities to learn about neuroplasticity

Introduction by Denise Goldbeck, creator of the popular Kids in the Spotlight and new Families in the Spotlight programs!

Limited-time access to the recording



Registration: 
Donations to Haven Foundation during registration are greatly appreciated, but not required to join. Registrants will have limited-time access to a recording.
The Haven is a registered charity and not-for-profit organization.
Your support allows us to offer great events like this one and continue to sustain and expand the important work we do. Donations made during event registration are tax receipt eligible in Canada. If you are in the US and would like a tax receipt or wish to donate by e-transfer, cheque, other other method, you can learn more about that
here
. Please reference this event when you make a donation using those alternative methods so that we can attribute your generosity appropriately.
Help us Share:
Do you know anyone who might be interested in attending this free webinar? Help us invite others to build stronger brains by sharing this registration link on social media or by email. Thanks for your help! 
About Zoom:
This online event will be hosted in Zoom, a video conferencing software that is free for participants and easy to use on a variety of devices. You will need to have a device (desktop computer or laptop recommended; tablet or smartphone can work too), reliable internet connection, and sound capabilities (speaker). You can test your device connection and compatibility in advance here: zoom.us/test
About the

Lunch

 with Luminaries Series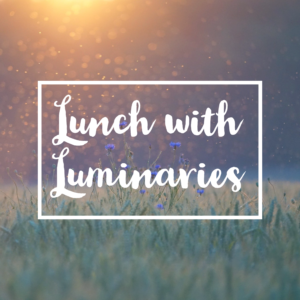 We're launching a new webinar series – Lunch with Luminaries – to share different perspectives on a variety of topics of interest to our community. These talks pay homage to early Haven days where co-founders Ben and Jock invited various thought leaders into conversation – sometimes they agreed with the ideas shared and sometimes they didn't. We think this spirit of curiosity and generosity is an important core value we hold, and we're excited to recreate this concept today with time and space-transcending technology!
Each webinar will have a Haven Host who will introduce or interview the guest speaker and in some cases take Q&A from the audience. The focus of these 1-hour live events is expansion, learning, and curiosity. They are free for anyone to attend and will be hosted in Zoom, an easy-to-use event platform. Please consider donating to Haven Foundation during registration. Registrants will receive limited-time access to the recording following the event.
Leader

Jennifer Fraser
Jen Fraser is a writer and an award-winning teacher of 20 years. She earned a PhD in Comparative Literature that trained her in taking diverse discourses and putting them into dialogue to see if new ideas and insights emerge. Prometheus Books is publishing her latest book, coming out in March 2022, entitled "The Bullied Brain: How to Heal Your Scars and Restore Your Health." In this fourth book of Jennifer's, she draws on the language of neuroscience to see if it sheds light on the struggles we have in our culture with bullying and abuse. Aligned with The Haven and…
Learn more about Jennifer Fraser