ONLINE: Advanced Satir Training Application
With Jean McLendon and Maria Gomori
July 12 - November 15, 2021
Please note: this training is now FULL, but we invite you to add yourself to the waiting list and/or submit an application for future opportunities. 
Join Master Trainers, Jean McLendon, LCSW, LMFT and Maria Gomori, MSW, RMFT, Dip.C, Retired AAMFT Supervisor, in a unique online training for experienced Satir model practitioners. 
Jean along with Maria, when possible, will consult, facilitate, coach, teach, and lead online Advanced Satir training catered to the group's learning needs. The group will meet for 10 live 2-hour training sessions and with triads in alternating weeks. Triads will be responsible for presenting a case study for exploration, discussion and feedback, which might involve their triad dynamics, an issue, topic, puzzle, or question, etc. The emerging needs and goals of these triad groups will be core to the evolving and collaborative design of the program. Participants will be stretched, stimulated and supported to expand their expertise in utilizing and sharing the Satir growth model. Jean and Maria are committed to assist the attendees be the very best Satir system practitioners they can be!
Who is this program for?  
This advanced training program is for:
T

herapists, coaches, trainers, ministers, teachers or health care workers and other leaders who are experienced* in Satir work.

 

Practitioners who are 

dedicated to advancing their Satir 

practice

.

 
 *Applicants must have a minimum of 5 days of prior Satir Training. Participants in the Haven's Online: Discovering Your Path to Self Through Satir are eligible to apply for this Advanced Training. 
Program Highlights:  
A responsive program designed to meet the unique and emerging needs of participants who apply Satir teachings to their lives and work.

A small cohort of 21 participants.

Continuing Education credits through UNC School of Social Work (

20 contact hours toward

80 hour

level 1 Practitioner Certificate)

20 hours of live training time with master trainers,

Jean McLendon and, when possible, Maria 

Gomori.

Regular practice groups and access to a community of dedicated Satir practitioners.

 

Case study exploration using triads.

Access to recordings of live training sessions for limited-time review. 

 

Pricing options and opportunity to apply to the Haven's Community Diversity & Inclusion Fund.
Dedicated IT Support.
Series Format
 & Schedule:
This Advanced Satir Training takes place over 20 weeks, alternating group training sessions and triad practice meetings.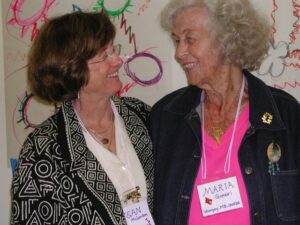 The live session training times are: 
Monday, July 12

: 

8-10am PT / 11am-1pm ET

 

Monday, July 26: 8-10am PT / 11am-1pm ET

 

Monday, August 9: 8-10am PT / 11am-1pm ET

 

Monday, August 23: 8-10am PT / 11am-1pm ET

 

Monday, September 6: 8-10am PT / 11am-1pm ET

 

Monday, September 20: 8-10am PT / 11am-1pm ET

 

Monday, October 4: 8-10am PT / 11am-1pm ET

 

Monday, October 18: 8-10am PT / 11am-1pm ET

 

Monday, November 1: 8-10am PT / 11am-1pm ET

 

Monday, November 15: 8-10am PT / 11am-1pm ET

 
Triad groups will coordinate to in the weeks between the live sessions for practice.  
What happens if I can't make a session?
We'll be sending out a recap following each session. Limited-time access to a recording of the teaching portion of the session will be available to registrants. Audio and video of participants will not be shared outside of this group without consent.  
Pricing Options:
Accessibility and inclusion are important to us. Together with the facilitators, we are able to offer tiered pricing on this program. Please select a tier that fits your budget and current context. Often, employers will sponsor, support, or reimburse for professional development programs like this one. Please let us know if you require any documentation. 
$699: 

Community-supported –

 made possible by our generous supporters 

 

$849: 

Regular

 – standard tuition price 

 

$999: 

Pay It Forward

 – helps support another participant to join at the supported rate

 
We are able to offer a limited number of bursaries through the Community Diversity & Inclusion Fund. Applications must be received at least 7 days prior to the program start date. Learn more and apply for support here. Bursary Application Deadline: July 5th, 2021.  
Application Process
:
Jean and Maria will be reviewing applications for this Advanced Training. Only 21 participants will be admitted. You will be asked to share information about your previous Satir training experience, your interest in this advanced online training, and what you're hoping to learn and practice. To apply, click the Register Now button below. Once you fill in your details, we will email you a questionnaire. Jean and Maria will review all applications and successful candidates will be notified and invited to complete their registration. 
Click Register Now and fill in your contact details to indicate your interest in the training. 

Fill out the questionnaire you receive in your confirmation email.
Apply for any Community Fund support you may require.
Await next steps and information about your application.
Collaboration:
This program is being offered by the Haven in collaboration with the UNC School of Social Work Satir Institute.

Technical requirements
: 
This online program will be hosted on Zoom, a video conferencing software that is free for participants and easy to use on a variety of devices. You will need to have a device (desktop computer or laptop recommended; tablet or smartphone can work too), reliable internet connection, and sound capabilities (headset recommended; built in or external microphone or speaker systems can work too). You can test your device connection and compatibility in advance here: zoom.us/test   
You will be invited to join the first session up to 15 minutes early to receive technical support. 
Leaders

Jean McLendon
Jean McLendon, MSW, LCSW, LMFT, Director Advanced Studies, Satir Institute, UNC School of Social Work, Chapel Hill, NC. is a past president of the Virginia Satir Global Network and a recipient of its Living Treasure Award. Jean has over 50 years in the field of human relations. Mentored for nearly 20 years by the late Virginia Satir. Of Jean's work, Satir once wrote: "Jean has that rare capacity to be able to sit in the airport control tower and, at the same time, be aware of all the planes in her vision and be able to help them find…
Learn more about Jean McLendon

Maria Gomori
Maria Gomori MSW, RMFT, Dip.C, Retired AAMFT Supervisor, is the world's foremost practitioner and teacher of Satir processes. She is a retired Supervisor with the American Association of Marriage and Family Therapy, and a retired Associate Professor of the University of Manitoba. She studied and worked with Virginia Satir for over 20 years and has been an advanced trainer in the Satir Global Network since 1981. She has taught at The Haven since its foundation in 1983, leading Journey to Self and Family Reconstruction and more recently coaching Advanced Satir online. The Haven has published a number of her books,…
Learn more about Maria Gomori