Trusting that the forest will offer what we need
Ken Ouendag invites you to slow down, tune in, and enter liminal space and time.
By Ken Ouendag. Ken is leading Forest Therapy: Nature's Guide to Wellness, August 31– September 2.
The benefits to participating in forest therapy are many. Research indicates forest therapy practices can offer a wide spectrum of health benefits to humans, ranging from increased creativity and attention, to improved mental health, memory, and immune system functioning, as well as the lowering of blood pressure and cholesterol. Not to mention a significant reduction in stress. Added to this, forests and nature in general benefit when humans establish deeper nature connections; the more we get to know the more-than-human-world, the more likely we are to care for it in our own ways.
Forest therapy guides are not therapists; however, it's clear from above that the practice is inherently therapeutic. The word "therapy" refers to the general therapeutic effect and intentions of the overall practice, and reminds us of the therapeutic benefits of the natural world.
Forest Therapy is influenced by a Japanese practice that began in the early 80s called "shinrin-yoku", which is known in English as "forest bathing". Researchers had discovered that the human immune system benefits from the same organic compounds emitted by trees (wood essential oils) as a way of protecting themselves, and so the term describes the act of bathing in these essential oils.
Forest therapy has since evolved into a structured practice where guides lead people through a standard sequence that has been designed to help people slow down, and tune into their senses and the forest, as they enter into what we refer to as liminal space and time. "Liminal" means "in-between", specifically the span of time and experience that is in-between the ordinary experience before and after the walk. In liminality, there is a heightened potency in the ways we are in communication with the world around us. And this is when the forest is most likely to offer something to us.
A motto among forest therapy guides is: "The forest is the therapist. The guide opens the doors." A guide is trained to work in partnership with the forest to offer experiences adapted for each group and the particular environment. A guide is prepared with a multitude of nature-connection activities (known as "invitations") to choose from, fosters connections among participants, manages risk, facilitates sharing circles, and has knowledge about the region's flora and fauna (although this information is never the focus on a forest therapy walk). Still, a good guide knows to step back and allow for individuals to have their own experiences on walks by trusting that the forest will offer each person what they need.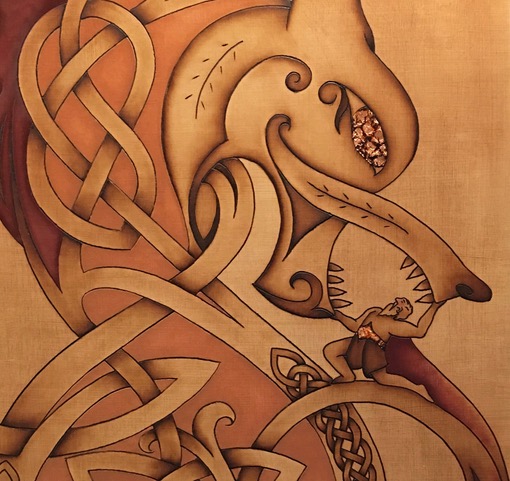 I have a favourite story that speaks to this. A woman joined me on a walk in Stanley Park when I first started guiding. She had recently moved into the city to live in a condo building, after years of having a house with a yard and a garden she loved tending. She'd been challenged by the loss of her garden and the opportunity to connect with the plants and flowers she cared about growing for so many years. She wondered if gardening was something she now needed, or whether it was something to move on from. During the walk, she was invited to spend time with a tree she felt called to. Fifteen minutes later she returned with a 4-foot garden spade. Far from any garden or road in the park, she found the spade leaning on the backside of the tree she was spending time with. She carried that big spade with her for the remainder of the walk – a gift from the forest that served as a gentle nudge to seek out a community garden nearby.
Whether you find a garden spade, relaxation, or a deeper sense of connectedness, forest therapy has something different to offer each one of us. There's no better way to experience the gifts of this practice than by exploring the beautiful forests of Gabriola Island on this upcoming 3-day immersive experience.
****************************************************
Join Ken Ouendag for Forest Therapy: Nature's Guide to Wellness, August 31– September 2.
Did you enjoy your read? Get bi-monthly updates straight to your inbox. That's right, just one email every two weeks with a collection of great new content, plus an invitation to contribute too!