Octopus Souls and Human Hearts: A book review and other musings
Wayne's Zeitgeist series: The Soul of an Octopus: A Surprising Exploration into the Wonder of Consciousness, by Sy Montgomery; Mind: A Journey to the Heart of Being Human, by Daniel J. Siegel, M.D.; poetry by Antonio Machado; and, music by Ben Harper.
Curated by Wayne Dodge. In the Zeitgeist series, Wayne wades through a world of publications, theories, music, poems and more, sharing his thoughts, discoveries and passions with particular reference to topics that touch The Haven.
"Not everything that is faced can be changed. But nothing can be changed until it is faced." and, "Most of us are about as eager to change as we were to be born, and go through our changes in a similar state of shock." ~ James Baldwin
Books
The Soul of an Octopus: A Surprising Exploration into the Wonder of Consciousness
By Sy Montgomery, Atria Books, 2015.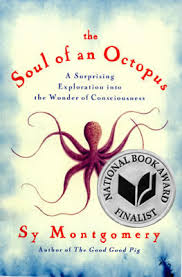 Sy Montgomery, a naturalist, documentary scriptwriter and author, relates her personal experiences with octopuses (yes, that is the correct plural) and in doing so, creates a fantasia on the Wonderment of Consciousness. She explores her conjectures about what it might be like to have a distributed consciousness (as some believe occurs in octopuses) rather than a Ego anchored, mostly brain limited consciousness like humans. She does so by relating her experiences with octopuses, both in large Aquariums as well as in the wild, and the people who love them.
Although short on harder science, it is often a touching personal document. I enjoyed also wondering about how my own consciousness limits my experience, as well as being challenged in what I realized was a bias toward a human-centered view of experience.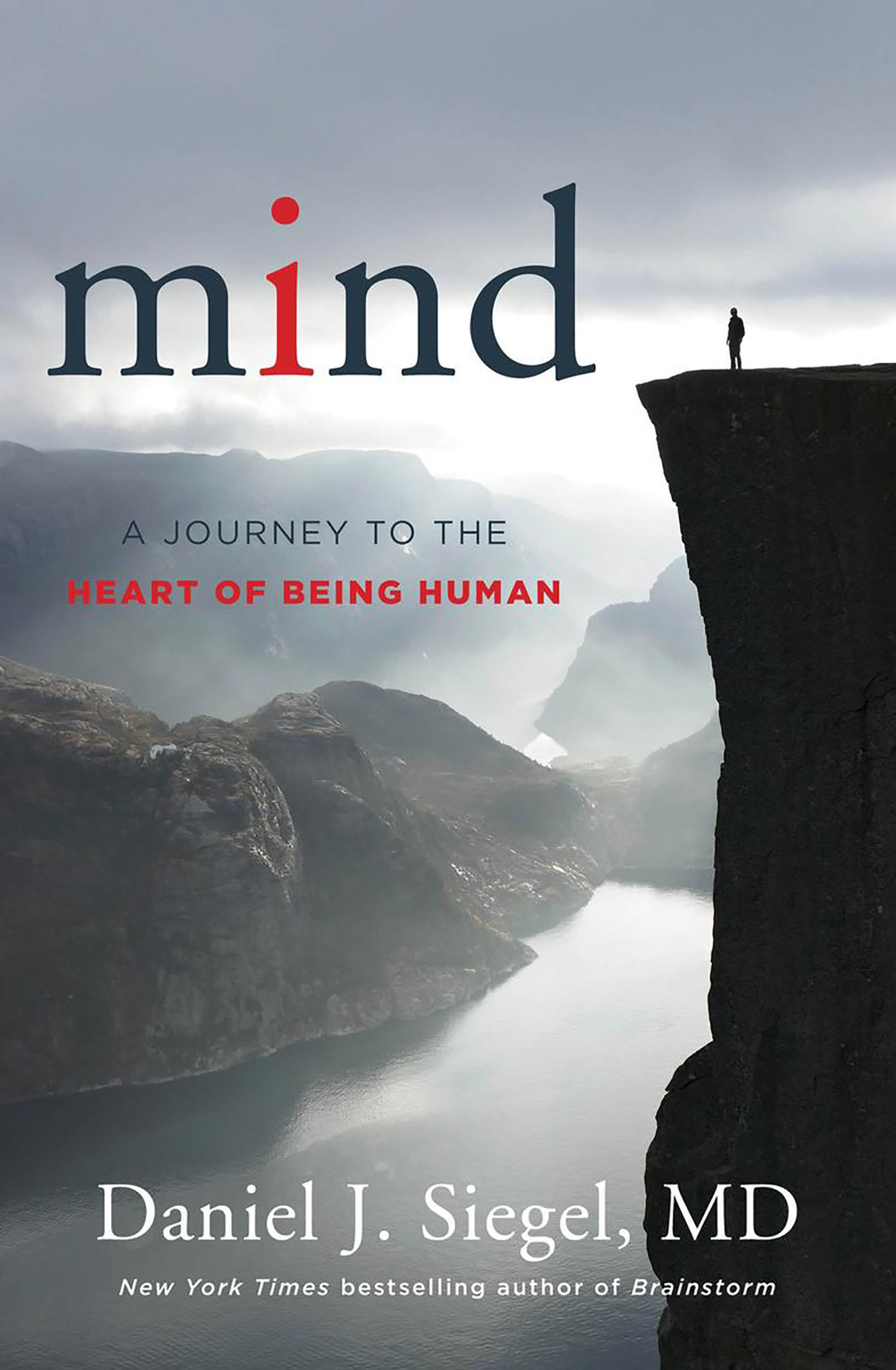 Mind: A Journey to the Heart of Being Human
By Daniel J. Siegel, M.D., WW Norton and Company, 2017.
This is a more dense, and illuminating book.
Siegel is the well known pediatrician/psychiatrist, who has spent the last several years using hard neuroscience to illuminate previous psychiatric issues. In this book he takes on the difficult topic of mind.
"By mind, I mean all that relates to our subjective felt experience of being alive, from feelings to thoughts, from intellectual ideas to inner sensory immersions before and beneath words, to our felt connections to other people and our planet. And mind also refers to our consciousness, the experience we have aware of this felt sense of life, experience of knowing within awareness." (Pg 1)
As such, Mind is both a noun and a verb. And, the body is fundamental to what the mind is.
He reviews current literature around what might make up the mind, with its four facets: subjectivity, consciousness, information processing and self-organization, with particular attention to the issue of self-organization.
Then he starts to discuss clinical issues and in particular, that what he often saw in his clients was the tendency of a complex system (i.e., the mind) when not optimally self-organizing to move towards one of two states, chaos or rigidity. (pg 77)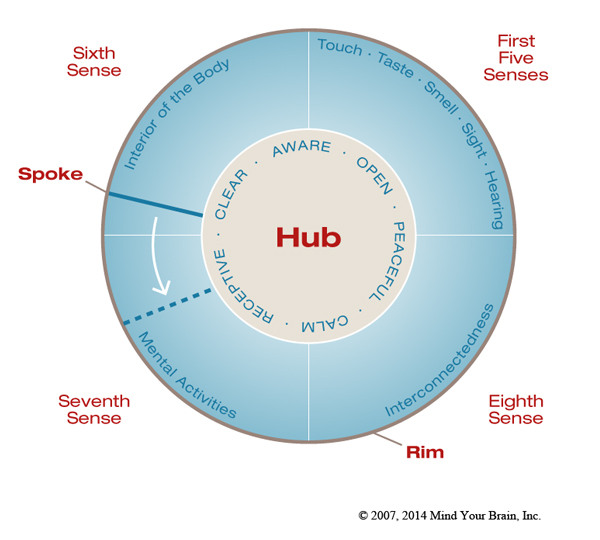 This description feels right from my experience, and I can imagine using this metaphor in program (and think this is what actually happens). When a participant is highly stressed, the tendency is to go into either control (rigidity) or breakdown (chaos). Our role, as facilitators, is to aid the participant in maintaining their center (core, ground, hub) in the face of either, to allow the emergence of a different self-organizing process (i.e., growth).
In this book he delves into multiple areas of research (including quantum physics) to comment and speculate on how the brain and consciousness works, specifically, with elements that promote integration.
From this work, Siegel promotes a method to promote such integration, he has proposed the Wheel of Awareness. This starts with a Hub – which has similarities to mindfulness as well as Self/self, observing ego, and other concepts. It is the space of awareness within which any experience happens. From this Hub of knowing, we can focus our attention across the elements of our experience. Our external senses (the traditional 5 senses), our body senses (gut feelings – 6th Sense), the meaning we make of these (our ideas, thoughts, emotions – 7th Sense) and the sense of connection with other people (8th Sense).
Siegel also includes bringing the focus of attention inward on the Hub itself. That is, being aware of being aware.
Since, as is said in Ecclesiastes, there is nothing new – this process will be familiar to anyone with experience in meditation – and I think it does encourage focus on a broad spectrum of experience rather than just the noisiest. This encourages integration on multiple levels.
Want to learn more? This wikiHow describes the process in detail. Or, Siegel offers The Journey of Integration – Professional Training to Expand Your Awareness and Cultivate Well-Being, as an 8-week on-line course (this link includes a video preview/interview).
Order these and other titles at haven.ca/books
Poetry
[Traveler, your footprints]
By Antonio Machado, Mary G. Berg and Dennis Maloney.
Traveler, your footprints
are the only road, nothing else.
Traveler, there is no road;
you make your own path as you walk.
As you walk, you make your own road,
and when you look back
you see the path
you will never travel again.
Traveler, there is no road;
only a ship's wake on the sea.
Music
I love when the same song can be used in two distinct moods. The original is Ben Harper from Diamonds on the Inside being reggae/assertive with the message. The follow-up is done by Jack Johnson and friends (featuring Ben Harper) for Sing-A-Longs and Lullabies for the Film Curious George, that is more aspirational. Anyway you cut it – it's one of my favorites.
With My Own Two Hands
I can change the world
With my own two hands
Make a better place
With my own two hands
Make a kinder place
Oh- with my
Oh- with my own two hands
With my own
Oh- with my own two hands
With my own
With my own two hands
I can make peace on earth
With my own two hands
And I can clean up the earth
Oh- with my own two hands
And I can reach out to you
Oh- with my own two hands
With my own
With my own two hands
Oh- with my own
Oh- with my own two hands
I'm gonna make it a brighter place
(with my own)
I'm gonna make it a safer place
(with my own)
I'm gonna help the human race
(with my own)
(with my own two hands)
Now I can hold you
With my own two hands
And I can comfort you
With my own two hands
But you got to use
Use your own two hands
Use your own
Use your own two hands
Use your own two hands
And with our own
With our own two hands
With our
With our
With our own two hands
Oh- with my own
With my own two hands
I'm gonna make it a brighter place
(with my own)
I'm gonna make it a safer place
(with my own)
I'm gonna help the human race
(with my own)
Oh- make it a brighter place
(with my own)
I can hold you
(with my own)
And I can comfort you
(with my own)
But you got
You got
You got
You got
You got
You got
You got to use
Oh- use your own
Oh- use your own
Lord
But you got
You got
You got
You got
You got to use – use
Use your own
Use your own
Use your own
Use your own
Use your own
Use your own
Use your own
Use your own
Use your own
Use your own