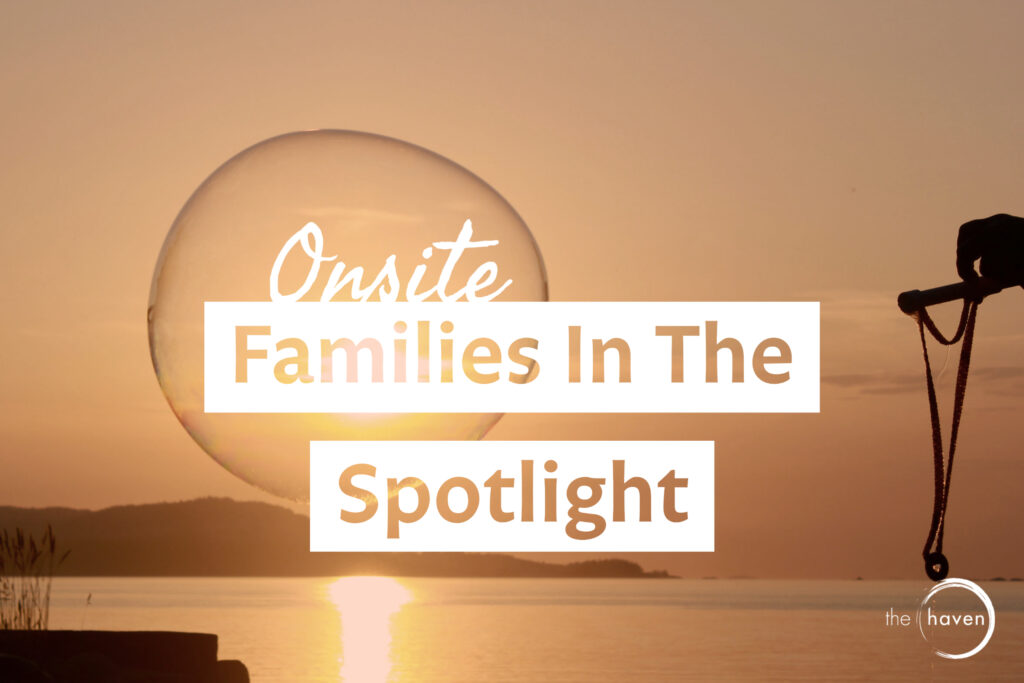 Families in the Spotlight includes the whole family – from the littlest baby to the oldest caregiver – everyone has a place in the circle at The Haven!
Denise Goldbeck and her team of youth leaders, will lead families through a week of games, connection and creativity! This program has been in development for years as a compliment to the hugely successful Kids in the Spotlight… and is perfect for the current situation we find ourselves in during this CoVid pandemic.
Let's start with what will be the same if you have ever attended Kids in the Spotlight:
The exact same schedule that we are all so used to for Youth Leadership and Kids in the Spotlight will be the schedule for Families in the Spotlight
There will be loads of games, a last evening presentation, – we will be working with a musical, but only a small part of one. And yes we will complete the presentation with a wrap party
There will be that special KITS feeling where we are not worried about competing but just feeling like we belong
You will have leaders to support you through the program who will be learning about leadership and family dynamics. They will have loads to teach you and you will have lots of fun being with them as usual
What will be new:
There will be so many games – children, parents, and grandparents get to play together!
Lots of the games will be played outside
Only a few people are allowed on the stage at a time so the presentation on the last night will be just for the group – no big audience – and won't require as much acting, dancing or singing experience. There will be much more focus on games and much less focus on the show
We will still get to play with costumes and props though and there will chances to perform
We will still be dancing, but we will be dancing outside most of the time
We will be running around all over the property playing kick the can, baseball, role play games and much more
You will learn a lot about who you are in your family.
Most importantly:
We will learn about how to play together in new ways.
We will learn about how to bring more playfulness to our everyday lives all year long.
We will learn about how to ask for permission to play and how to play so that everyone feels really happy about it.
We will learn about the purpose of your family.
We will learn to think about and talk about how you fit into your family and how your family fits into the world in new ways that will help you for the rest of your life.
Things that have to do with the pandemic:
Haven will be complying with whatever Health Guidelines are set out by the British Columbia Health Officer. This may include the wearing of masks during indoor and outdoor sessions and activities, social distancing during indoor and outdoor activities, and any other guidelines required by the Health Officer. You can review our current general CoVid protocols here, https://www.haven.ca/general-covid-19-protocols%C2%A0. If you are registered for the program you will be updated regularly on the guidelines and protocols before your arrival.
Package Pricing:
We are offering this program with package pricing only as below. You will be contacted by email to provide more information on the names and ages of the people in your family bubble at which time we will confirm your package pricing and accommodation.
Family of 2 in Basic room – $3710
Family of 2 in Forestview room – $3935
Family of 2 in Oceanview room – $4145
Family of 3 in Basic room – $4765
Family of 3 in Forestview room – $4990
Family of 3 in Oceanview room – $5200
Family of 4 in Forestview room – $6045
Family of 4 in Oceanview room – $6255
Family of 5 in Forestview room – $7100
Family of 5 in Oceanview room – $7310
Family of 6 in Forestview room – $8155
Family of 6 in Oceanview room – $8365