Next session: Jan 01 – Jan 01, 2022
An invitation to make the most out of your life.
Come Alive is our most popular core program and the perfect place to begin or continue your journey in personal or professional growth and transformation.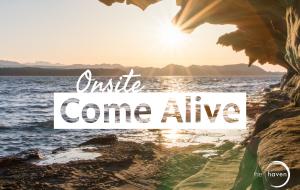 The Come Alive experience is special and cannot be offered with CoVid restrictions such as masks and distancing in place. We look forward to when those restrictions are lifted and we can offer this program again. Add yourself to the waiting list and we will be in touch to let you know when that time comes. In the meantime we have brought some of our programs Online and are adding new offerings regularly, https://haven.ca/program​
People from all walks of life, backgrounds, experiences, lifestyles, and locations join us in Come Alive and most experience something profound.
The magic of Come Alive is in our unique history, renowned communication and relationship models, community dynamic, and oceanfront setting on Gabriola Island. With support and guidance, you will learn and practice the Haven models of communication, relationship and self-responsibility, through a range of opportunities for personal learning. All participants meet together during the day, with smaller groups in the evenings. In addition to group activities and discussions, each participant is offered the opportunity to explore or work on something unique to their individual life experience.

Come Alive is for you if…
I want to deepen my self-awareness and move beyond self-imposed limits
I'm ready to develop greater self-compassion and self-acceptance
I want to experience the freedom of being my whole and authentic self – mind, body, and spirit
I'm open to learning and practicing a transformative model for communication
I want valuable insights to strengthen my health and well-being
I want to break through self-limiting patterns and live the life I want
I'm curious about myself and my place in relationships, community, and the world
I want to rediscover joy and meaning in life
I want more harmonious, loving and fulfilling relationships; I want to know what intimacy really is
I am looking to improve my professional skills; to be more authentic as a leader, bolster my 'soft' skills, and develop better relationships with my co-workers.
I want to shake things up and try something different…
Who comes to Come Alive and why? Click here to learn more.
"For the first time, I felt comfortable in my own skin…"

Program highlights:
5 days in a serene oceanfront setting on Gabriola Island to focus on yourself.
Opportunity to learn from, relate to, and deeply connect with others.
A unique East meets West approach developed by a psychiatrist (Ben Wong) and a medical doctor and acupuncturist (Jock McKeen).
Experiential learning through diverse methods: bodywork, breath, visualization meditation, movement, and cognitive skill development.
A powerful approach to developing self-compassion and deeper self-awareness.
40 years of continued success with thousands of participants from around the world.
Select expert program leaders, who are highly trained at The Haven and in their various professions.
Unparalleled support and a high ratio of participants to leadership team.
Complimentary morning movement and afternoon yoga classes.
Opportunities to further heal and explore mind-body-spirit connection with onsite bodyworkers and yoga, arts, and massage therapies.
A full schedule, complete with daily breaks for introspection, connecting with others, rest, relaxing in the oceanfront hot tub, exploring nearby trails, and more.
Support to integrate your learning beyond The Haven through one-on-one coaching, online video meetings, and various local groups.
Related resources
Book 30 days before the program to save $100!
All-Inclusive Package pricing from: $1940* Includes program tuition, accommodation, and meals. Tuition only: $1590 ($1490 Early Bird).
*"Pricing from" is calculated using early-bird discounts and the most economical, off-season accommodation rates. These calculations are intended to help you evaluate your investment and do not guarantee the availability of specific accommodations and rates. Please verify availability and rates for specific session dates by clicking "Register" or by calling our registrars toll-free at 1 800 222 9211 x 1. ​This program does not require approval by the registrar of the Private Training Institutions Branch (PTIB) of the Ministry of Advanced Education, Skills and Training. As such, the registrar did not review this program. What does this mean? Click here to learn more.
The program is aptly titled Come Alive as it has literally ignited my life – I feel alive and reconnected to a part of myself and people that I haven't had access to in a very long time. Come Alive is a process (a journey) into yourself with others and it is beautifully choreographed. It flows organically with deep mindfulness and it has shifted me and left me full of breath.

A.H., Come Alive