Click HERE to apply to be our 2020 Artist in Residence!
Submission Deadline: November 10th, 2019 at 8pm PST.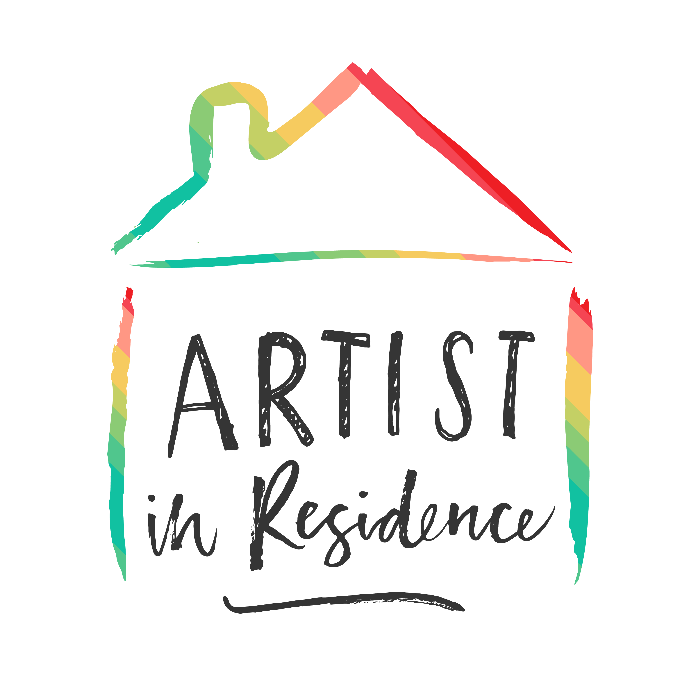 The Haven, in collaboration with the Gabriola Arts Council, began an Artist in Residence program at The Haven in 2012, offered to emerging artists aged 35 and under in the year of the residency.
The Artist in Residence program recognizes the important role of creativity in health and well-being. Throughout its history, The Haven has offered programs that nurture and cultivate creativity. The Haven has also been a place where artists have found inspiration and a welcoming to practice their craft. The program offers an opportunity for artists of all disciplines to apply for residency at The Haven.
The residency program provides accommodation for a four-week period in the beautiful setting of Gabriola Island commencing May 3rd through May 30th, 2020. Every day is a celebration of the arts in this community of writers, actors, poets, painters, dancers, musicians, sculptors, and potters. According to a 2011 study conducted on behalf of Canada Council for the Arts, Gabriola Island ranks sixth across Canada with respect to concentration of artists in the local workforce (5.8% compared to the national average of 0.8%)
To be eligible for consideration, artists must be aged 35 years or younger in the year of residency. Applications will be considered from artists in any discipline anywhere in the world (travel costs are not included in the residency). The residency concept embodies the mission to activate, enhance, and inspire our community's cultural vitality through collaboration, leadership, and service of the chosen artist.
Michelle Benjamin, Executive Director of the Gabriola Arts Council writes: "Artists accepted into the Artist in Residence program will find a warm, knowledgeable, and enthusiastic reception from Gabriola artists. And discovering an island community's passion and love for the arts? That's nothing short of inspirational. We know from experience that the dialogue that starts between the artist and the island during this residency will be one that lasts a lifetime."
The residency includes:
Accommodation during the 4-week residency (May 3 to May 30, 2020).
Wireless internet access.
Breakfast, lunch, and dinner served daily in The Haven's oceanfront dining room.
Easy access to the many beautiful places Gabriola has to offer.
A great opportunity to work with and learn from local artists, as well as sufficient solitary time to develop personal art work.
Location
The Haven is on beautiful Gabriola Island, one of the southern Gulf Islands of British Columbia. People come to The Haven from all over Canada and the USA, as well as from Europe and Asia. Learn more about Gabriola here.
Guidelines
Applicant must be aged 35 years or younger in the year of residency.
Applicant should be a practicing artist seeking time to reflect upon and develop their work.
Applicant must be focused and self directed.
Applications will be considered from artists in any discipline, living anywhere in the world.
The successful applicant must come during the specified time.
The successful applicant must pay for and arrange their travel to and from The Haven.
If the form allows, the artist in residence will donate to The Haven, one piece of work created during their residency and completed by December 31st of the year of residency.
During their stay at The Haven, the artist in residence will provide one open studio session or a workshop for local artists and students.
The selection procedure
The application period typically occurs annually in the fall. The successful applicant is selected by a jury based on artistic merit, potential for community engagement, and the relevance of the materials contained in the application package.
The application package
Artists are asked to provide the following documents as part of the on-line application.
Completed on-line application.
Current resumé.
Two letters of reference.
An artist's statement (maximum 250 words).
A proposal letter, stating your intended course of exploration during your residency (maximum 250 words). Support materials in the form that best describes your creative practice. For example, a brief audio or video presentation (YouTube or Vimeo, maximum 5 minutes), or a link to ten high-resolution images (1 to 5 MB each) of your best work in PNG or JPG format.
Submission Deadline: November 10th, 2019 at 8pm PST.
The Haven is dedicated to helping people build richer relationships with others and themselves. With a centre on Gabriola Island, our not-for-profit educational organization offers transformational learning experiences in group settings. We believe in creating a relational world where each of us is whole and responsible for ourselves and our environment. For over 30 years, The Haven has developed innovative approaches to teaching and learning, challenging thousands to define and shape their lives.
The Gabriola Arts Council is an established and respected organization in our community. We value and encourage community engagement, while fostering connections between and within community organizations. We host three annual art events—Isle of the Arts Festival, Cultivate Arts Festival, and Thanksgiving Studio Tour—while managing our year-round Healing Power of Arts program. We run arts-related programs in our elementary school, and collaborate regularly with local non-profits and community groups. We have collaborated in or contributed to the creation of other arts-related events throughout the years such as the Gabriola Poetry Festival, musical performances and concerts, workshops and other educational forums. The Council provides funding and fundraising opportunities for the Gabriola Elementary School's art and music programs, and to individual artists and arts events on the island.
Questions?
You may email community@haven.ca if you have questions, but please use the online form to apply.
Click HERE to apply to be our 2020 Artist in Residence!
---
Past Artists in Residence at The Haven
Ayala Reznik — April 3 – 30, 2018
The Haven and The Gabriola Arts Council were pleased to welcome Ayala Reznik as our 2018 Artist in Residence.
Ayala's residency was April 3rd to April 30th at The Haven. She worked on self-directed projects, participated in the Isle of the Arts Festival (April 5th to 15th), and enjoyed many opportunities to engage with our Gabriola community.
Ayala's posts on the Shen blog:
Ayala is a Toronto-based sculptor and multi-media artist whose recent work has explored representation of the female body, particularly through the aesthetics of the Paleolithic and Neolithic eras, and its contemporary relevance in considering issues and representations of abuse, trauma, and rehabilitation.
She has developed her understanding of this theme through sculpture and installation, performance art, and photography, and through this work has come to understand the profound and meaningful continuity between prehistoric representations of women's bodies and self-representations of female bodies today.
"When I was informed that I had been chosen to be the artist in residency in the Haven at Gabriola Island in 2018, I was very excited. I am thrilled to take part in this new adventure", says Ayala. "This will be an opportunity to connect with a new community and to create out of this new relationship, as well as to reflect on the connections between the inner and outer realms that I have consistently explored in my art. I am very intrigued to experience how the encounter with the community, creators, and nature in Gabriola will paint my art, and myself, as an artist and a human, in new colours."
Examples of Ayala's work can be seen at ayalareznik.com
Ayala was chosen from among a range of talented and interesting applicants. This year's jury included local artists Naomi Beth Wakan, Sheila Norgate, and Brad Shipley, along with GAC Program Director Mitch Miyagawa. Their review process was facilitated by GAC and Haven board member Mary Holdgrafer.
2018 was the 6th year of the Artist in Residence program at The Haven, through which young artists (under 30 years) from around the world are invited to apply for a month-long residency. This creative collaboration between The Haven and GAC is an opportunity to support young artists, and to introduce their work to a Gabriola audience.
Previous artists-in-residence include painter Talia Peckel (2017), musician Justin Kautz (2016), painter Claire Uhlick (2015), and performance artist Brooke Leifso (2014).
We were very pleased to have Ayala join us at The Haven!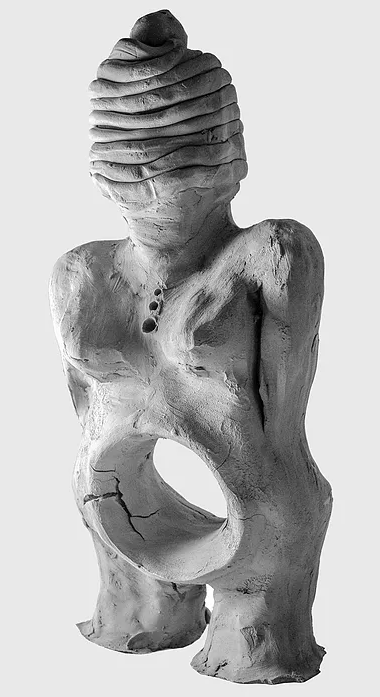 ---
2017 Artist in Residence – Talia Peckel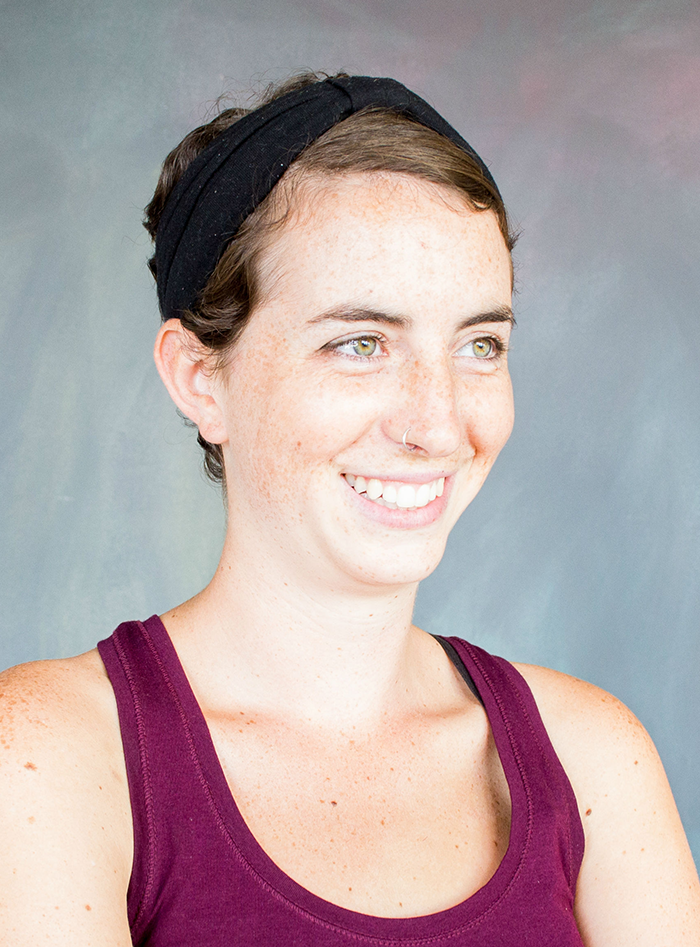 Talia Peckel was chosen to be the Haven/Gabriola Arts Council Artist in Residence in 2017.
Talia's Shen Blog posts: Week 1 Week 2 Week 3 Week 4
Talia is a Toronto-based artist who was born in Canada and raised in Colombia. She moved back to Toronto and completed her BFA with a major in Drawing and Painting at OCAD University in 2014. After her studies she travelled and worked on a farm in rural Ontario. She then worked as an art instructor in a community-run studio in downtown Toronto for a year. However, having fallen in love with farming in Ontario, she decided to keep travelling and completed a series of murals on a farm in Salt Spring Island, British Columbia.
Her aesthetic is heavily influenced by children's illustration, as is the tendency toward narrative in her work. It aims to explore the uncertain line between figuration and abstraction through the use of simple, illustrative lines in contrast to the use of bold colour and composition.
Talia writes: "I am thrilled and honoured to have been selected to participate in the 2017 Artist in Residence program at The Haven on Gabriola Island.
It is a unique opportunity to develop my work independently, while still engaging with a vibrant artistic community that I can contribute to as well as integrating the surroundings into my practice. To me, the purpose of creating murals is to embed visual art into physical spaces we inhabit on a daily basis with the intention of bringing people's awareness more fully into the present moment and their environment.
As a workshop instructor, my aim has been to guide people into a state of fluid expression where they feel safe to be creative in their own unique way, letting go of specific results. I'm excited to develop these practices further during my residency, which is sure to be beneficial in a myriad ways, offering an exploration into nature, community, and an artistic practice that shares a relationship with both."
View Talia's work at taliapeckel.format.com
Here's an update on Talia's mural project at The Haven.
And, a one-minute time lapse video of her mural-in-progress as created in March-April 2017.
---
2016 Artist in Residence – Justin Kautz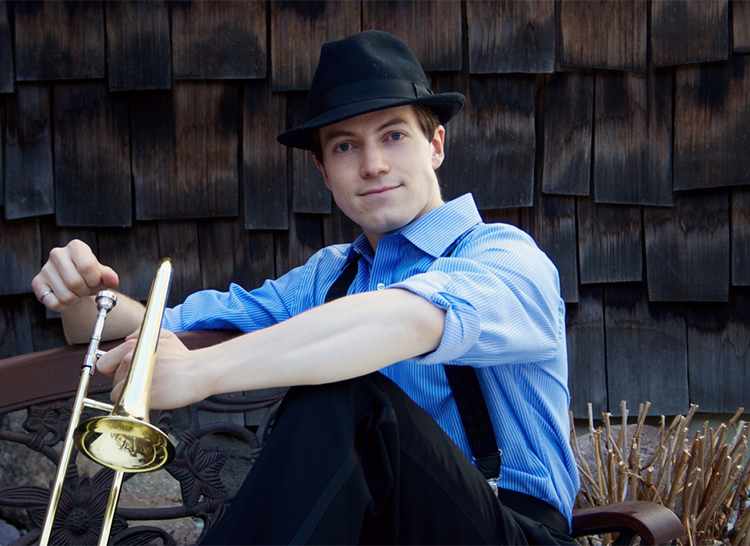 Justin Kautz was nurtured into the performing world through the dedicated and carefully crafted works of Toy Guns Dance Theatre.
Aside from five stage works and one duet within the work of Toy Guns, he has had the pleasure and challenge of performing in several musical theatre works, most notably in the role of Sherlock Holmes with Jubilations Dinner Theatre.
Prior to his time engaging the arts as a career path, Justin sang in the Grandiose Duo and performed on the trombone as a hobby next to his more encompassing occupation as an Engineer In Training with Alberta Innovates — Technology Futures.
On hearing about his successful submission, Justin wrote: "The news that The Haven on Gabriola is in my near future has added a buoyancy to my step and a confidence to my music! From what I have read and heard of The Haven, it is surrounded by a vibrant community and has a wealth of wise and skilled people to learn from and an abundance of striking nature to soak up. The most difficult part of this residency will likely be the wait prior! My curiosity has been piqued, my hopes have flared and my anticipation grows with every conversation about the residency. Among the plethora of opportunities afforded by this residency, I'm most looking forward to focused creative time, new connections at The Haven and on the island, and the Isle of the Arts Festival. I can't say thank you enough!"